Byron Scott is a former American professional player and a coach who served for various prestigious teams and earned several awards. Scott played for teams like Los Angeles Lakers, Indiana Pacers, and Panathinaikos. As a player, he earned three NBA championships with the Lakers in the 1980s. Similarly, as a coach, Scott won the 2008 NBA Coach of the Year award and NBA All-star game head coach two times.
The former athlete, Byron Scott, recently walked down the aisle with his long-time girlfriend, Cece Gutierrez, on 11 July 2020. Cece is Byron Scott's second wife. Before this, Scott was in a marital relationship with Anita Scott from 1986-2014. With Anita, Byron Scott has three kids, two sons and a daughter who are all grown-up now. Today, we are talking about one of Byron Scott's son, Thomas Scott. So, get ready to know all the facts about Thomas Scott.
Adopted Son Of Byron Scott
Thomas Scott was born in 1983, while Byron Scott was at the beginning of his playing career. Byron had just started his career as a professional basketball player in NBA when Thomas Scott arrived in this world. Moreover, you might be amazed to know that Thomas Scott is not the biological son of Byron Scott. Byron adopted him after getting married to his mother Anita Scott in 1985, some years after his birth.
View this post on Instagram

The biological father of Thomas Scott is the famous American actor and comedian, T.K. Carter. You certainly may be familiar with Carter from his appearance on shows like The Steve Harvey Show, The Bobby Brown Story, and The Sinbad Show. Thankfully, Carter let the cat out of the bag that Thomas Scott is his biological son by posting a photo with a caption revealing their relationship.
The fact about Thomas Scott's biological father was not a secret to Scott's family. However, they kept this secret away from public reach for so long. But, as truth could not be hidden for long, it got revealed finally, and now most of Byron, T.K., and Thomas' fans know that T.K. Carter is Thomas Scott's father. However, both dads are equally important to Thomas.
Siblings Of Thomas Scott
After the adoption of Thomas Scott, Byron Scott welcomed two kids, LonDen Scott and DaRon Scott, with his ex-wife, Anita Scott. Thomas Scott's younger sister, LonDen Scott, made him a proud big brother for the first time in 1987. Similarly, he became an elder big brother for the second time with the birth of his younger brother, DaRon Scott, in 1991.
Both siblings of Thomas Scott, LonDen and DaRon, stay far from him. But the brother-sister bonding between them is still powerful. They often meet each other on various special occasions. Seeing the photos shared by them on their social media pages, it's clear that they feel happy to spend their quality time together and cares for each other.
Following The Footsteps Of His Father To Sports
Byron Scott's son, Thomas Scott, had a great passion for basketball since his early childhood. During his childhood days, Scott used to go to his dad's basketball camp every summer, not once but twice. Being a shadow of his dad, Thomas used to practice with him on Saturday morning and go to games on weekends, which helped him to expose himself to a lot of basketball-related stuff.
ALSO READ: Chris Walton, Facts About Bill Walton's Son With Susan Guth
Growing up, Thomas Scott decided to follow in his father's footsteps to basketball coaching. And currently, with his dedication and hard work, he has almost achieved his aim to be a successful basketball coach like his dad. He worked on the Los Angeles Lakers staff as an Assistant coach in player development for some period. Moreover, he also served in Cleveland Cavaliers and New Orleans Hornets for some years in the past.
Furthermore, Byron Scott's son, Thomas Scott, founded a company named You Ball Training with his dad's extreme support. His company provides basketball skills training from a professional level to athletes of all ages.
Thomas Scott's Wife And Children
Byron Scott's son, Thomas Scott, is a married man. He tied his marital knot with Kristen Scott in 2012 after staying in a romantic relationship for some time. Along with the eight years of togetherness as a husband and wife, Thomas and Kristen's love and understanding for each other is getting stronger. There are no rumors of these two having any marital issues to date.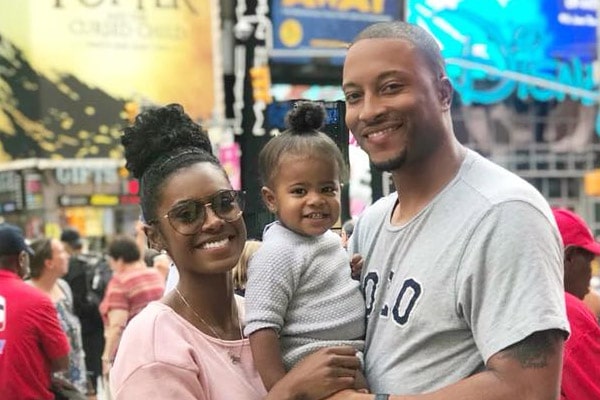 The happily married couple, Thomas and Kristen Scott, are parents to an adorable daughter, Kenzi Scott. Thomas Scott's wife, Kristen Scott, often shares their little girl's photos on her Instagram and Facebook. Moreover, the couple has even created an Instagram account in their daughter's name, where they frequently upload pictures of Kenzi.
Name Meaning: Thomas Scott
The name Thomas originated from the Aramaic personal name תאומא /tɑʔwmɑʔ/ which means twin or look-alike man.
Explore more on eCelebrityBabies and get updates on Celebrity Babies, Celebrity Parents, Celebrity Siblings, and More.