Caius Kane Denman is the son of The Office star David Denman with his wife, Mercedes Mason. Being a son of celebrity actors David and Mercedes, Caius Kane is also gaining quite a lot of public attention. Besides the series The Office, his father, David, is famous for his performance in movies like Power Rangers and Greenland. Likewise, Caius' mother, Mercedes is a Swedish-American actress famed for the TV Series Chuck, Fear the Walking Dead, and many more acclaimed movies.
Here is everything you should know about David Denman's son with Mercedes Mason, Caius Kane Denman, including his everyday life.
Firstborn Of David Denman With Mercedes Mason
Caius Kane Denman is the only child of David Denman and his spouse Mercedes Mason. The celebrity couple, David and Mercedes, gave birth to their son, Caius Kane, on 10 January 2018, happy and healthy. The overwhelmed parents of Caius Kane Denman had announced their little boy's birth via their respective Instagram pages.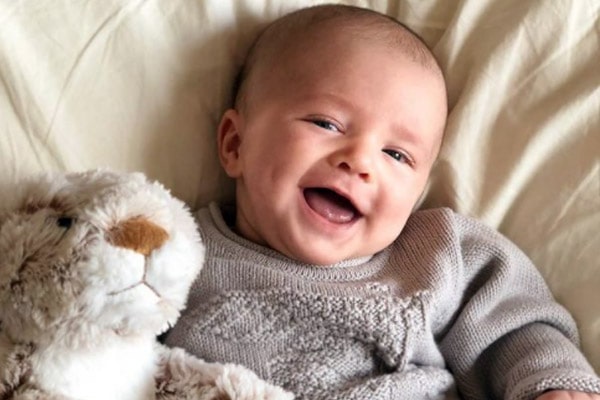 The Office star, David Denman, and Fearing the Walking Dead star, Mercedes Mason took their wedding vows in September 2014. Caius Kane is the firstborn of the happily married couple. Currently, the family of three, Caius and his parents, resides in Los Angeles, California.
His Parents Are Always Overconcerned About His Privacy
Parents of Caius Kane Denman, David, and Mercedes, often shares pictures of him enjoying his childhood on their respective social media pages. Caius Kane can be seen doing his childish activities and having fun traveling around with his parents on their Instagram. However, Caius's mom and dad always make sure to keep his face hidden from the public while uploading his photos.
View this post on Instagram

Probably, Caius' parents, David and Mercedes, want to share their joy of being parents with their fans along with maintaining their child's privacy. Caius is currently just two years old and does not know much about the pros and cons of being in the limelight. So, his mother and father might be waiting for him to grow up and decide either to present himself before the camera or not on his own. But for now, we need to have some patience and watch Caius grow-up making decisions individually.
Caius Loves To Play With His Pet Cat
Caius and his family have three pets at their home, two dogs and a cat. However, going through the Instagram of his father, David, and mother, Mercedes, it seems like he enjoys playing with their pet cat named Snow.
ALSO READ: Actress Rory Jackson, Gildart Jackson And Melora Hardin Daughter
Besides being obsessed with the cat, Snow, David Denman's son with Mercedes Mason, Caius Kane Denman loves to play with muds and feel nature with his tiny hands like any other toddler. He is enjoying his toddler life to his best, playing and learning a lot of everyday activities.
Probably The Youngest Stranger Things Fan
David Denman's son, Caius Kane Denman, might be one of the youngest fans of the American science fiction horror thriller TV series Stranger Things. Usually, kids enjoy watching cartoons and colorful videos on their TV and gadget's screen. However, Caius loves to watch the TV series, Stranger Things with his parents.
Caius Kane's mother, Mercedes Mason, shares a video of him watching Stranger Things every now and then like he understands everything going on the screen. It seems like David Denman's son, Caius is already a fan of the acting industry. Who knows? maybe, Caius might also shine out in the Entertainment Industry, just like his parents. But, for now, Caius Kane Denman is too young to decide on a career of his own. He is just enjoying his diaper days in the present.
Name Meaning: Caius Kane Denman
Caius is a Latin origin boy name which means rejoice. Similarly, the middle name Kane is of Irish origin, which refers to little battler.
Explore more on eCelebrityBabies and get updates on Celebrity Babies, Celebrity Parents, Celebrity Siblings, and More.