Ameican former basketball player Bill Walton currently works as a television sportscaster. The two-time NBA champion was inducted into the Naismith Memorial Basketball Hall of Fame in 1993. During his prolific playing career, Bill played for teams like Portland Trail Balzers, San Diego/Los Angeles Clippers, and Boston Celtics.
The 68-year-old has married twice and is a father of four children. Bill has remained pretty inactive in media and has not revealed much about his personal life. All of Bill's children are also far from the limelight and like to spend their time away from the media. Even though there is hardly any information about Bill's children on the internet, we have accumulated some interesting facts about Bill Walton's son Chris Walton.
ALSO READ: Facts About Jeff Van Gundy's Daughter Mattie Van Gundy
Youngest Son Of Bill Walton
Bill Walton married his first wife in 1979 and has four sons with her. Out of the four grown-up sons, Chris is the youngest son of Bill. Chris has three elder brothers, Luke Walton, Nathan Walton, and Adam Walton. Chris's brother Luke Walton is also a known name in the NBA as Luke is the head coach of the NBA team Sacramento Kings.
Chris, being the youngest of the siblings, received love and care from not only his parents but also his big brothers. The four Walton brothers share an unbreakable bond with each other that can not be damaged even in a crisis. During their parents' divorce, the brothers had each other to help them cope. Chris was particularly affected more by his parents' divorce as he was very young at that time. But together with his brothers and his parents' mutual agreement, things got better.
Bill Walton's Son Chris Played In Division I College Basketball
Bill Walton's son Chris was the last one to follow in his father's footsteps. All of his elder brothers had already made a name for themselves in the sport. Chris played Division I basketball for San Diego State University. During his time at the university, he made quite a name for himself and even got him out of a near career-ending injury.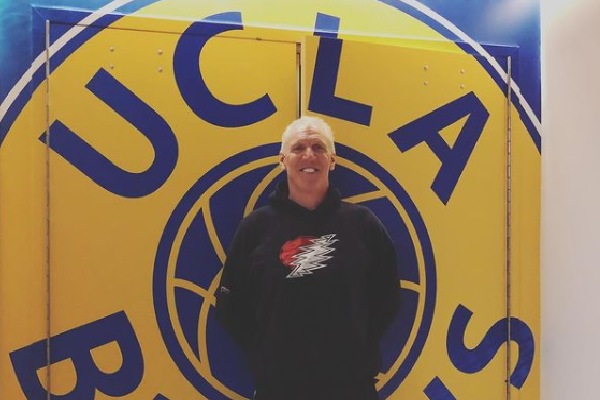 Chris spent a total of five years in San Diego and has some memorable moments with the team. One of them was his buzzer-beating, fadeaway shot that hung on the rim before dropping to give San Diego State a rare road win against BYU to open Mountain West Conference play. There was also his career-high 23 points against Colorado State, while his father was busy cheering from his third-row seat at Cox Arena. He has almost vanished from basketball after his stint at San Diego for better or worse.
Chris Is The Most Inactive In Media Out Of The Four Siblings
Chris was on the track of becoming a basketball star following the tracks set by his father and siblings but due to unknown reasons, that did not happen. Currently, Chris is the most secretive out of his four siblings and rarely makes a public appearance. He is nowhere to be seen on social media platforms like Instagram and Twitter, so it is quite difficult to depict what he is doing now.
View this post on Instagram

Chris spent most of his college life with basketball, and as basketball runs deep into the family, we can expect him to be back in the game in some way pretty soon. Let's hope Bill Walton's son Chris opens up about his personal life pretty soon.
Name Meaning: Chris Walton
Chris is a biblical name that means ' a Christian' or 'follower of Christ' and 'anointed.'
Explore more on eCelebrityBabies and get updates on Celebrity Babies, Celebrity Parents, Celebrity Siblings, and More.