Bill Walton is an Ameican former basketball player who currently works as a television sportscaster. The two-time NBA champion had a prolific career, which saw him inducted into the Naismith Memorial Basketball Hall of Fame in 1993. During his playing days, Bill played for only three teams, Portland Trail Blazers, San Diego/Los Angeles Clippers, and Boston Celtics.
Bill has remained pretty inactive in media and has not revealed much about his personal life. The 68-year-old has married twice and is a father of four children. Moreover, Bill's children are also away from the spotlight. Considering this, we have accumulated some interesting facts about Bill Walton's son Adam Walton that may take you by surprise.
One Of Four Sons Of Bill Walton With Ex-Wife Susan Guth
The two-time NBA champ Bill married his first wife, Susan Guth, in 1979. The couple spent a decade together and became parents to four sons, and one of them is Adam Walton. Adam has three brothers Luke Walton, Nathan Walton, and Chris Walton. If you are an NBA regular, you must have heard the name Luke Walton as he is the head coach of the NBA team Sacramento Kings.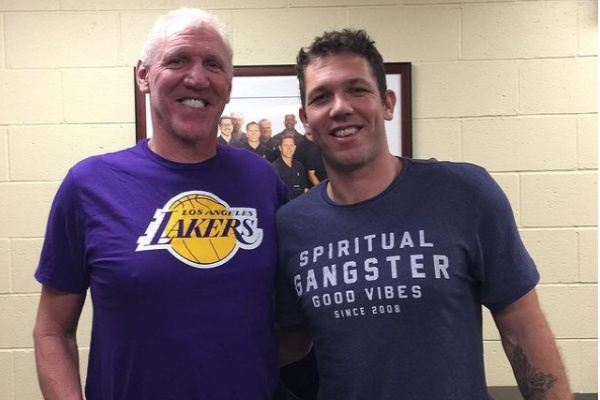 Adam spent his early childhood in the absence of either one of his parents at a time. As things between Susan and Bill became too unhealthy to sustain, they had to part ways and divorce. Bill and Susan remained friends so that their children did not feel detached, but things were not as they should have been. Adam and his brothers share a strong bond with each other and will surely remember their time as children.
ALSO READ: Facts About Jeff Van Gundy's Daughter Grayson Van Gundy
Bill Walton's Son Adam Is A Basketball Coach
Bill Walton's son Adam was the first to follow in his dad's footsteps. Adam has a family legacy that includes the NBA Hall of Fame, as well as NBA coaching, so the love of basketball runs through his veins. During his college days, Adam used to play Division I basketball at LSU, followed by Division II at Pomona. And at the Division II College of Notre Dame in Belmont, CA, he finished his college playing career.
Now in his forties, Adam has bounced back to basketball as the head coach of San Diego Mesa College, a community college in San Diego, California. Adam is trying to make sure that his father's legacy as a player remains engraved into him through his passion for the game. With Adam's newfound role as Mesa's head coach, we are bound to see him devote to basketball for many more years to come.
Adam Was Featured In Bill Walton's Long, Strange Trip
Adam Walton was also featured in the reality TV series 'Bill Walton's Long, Strange Trip' along with his father and three brothers. Even though entertainment is not the family's forte, Bill's charismatic attitude combined with the brotherly humor, the show depicted a perfect family bond. Bill had this to say after the announcement of his show:
"For years, I have been telling everyone I meet about my experiences and my passion for the game. Now, I get to share every aspect of my life with millions of fans all at once. It's like a big party. What could be better?"
The Walton family shares a joyous moment with each other that every family wants to have. Let's hope we get to see more incredible stuff from this family of basketball freaks.
Name Meaning: Adam Walton
Adam is a biblical name originating from Hebrew. The name Adam derives from the Hebrew noun 'adamah,' meaning 'the ground' or 'earth.'
Explore more on eCelebrityBabies and get updates on Celebrity Babies, Celebrity Parents, Celebrity Siblings, and More.