It's no surprise that some people are making serious money from YouTube. You have probably heard of some names who gained fame on the platform, such as Dude Perfect, Logan Paul, and James Charles. And there are even some little stars like Anastasia Radzinskaya, famous with the name Like Nastya, who is ruling the YouTube world at such a young age. And, there are the Vashketov brothers, Vladislav Vashketov and Nikita Vashketov, who achieved the No.1 position on 2020's best-paid YouTubers.
The Kid YouTubers Vladislav and Nikita, jointly famous with the name Vlad and Niki, topped other YouTubers like Liza Koshy and The Odds1sOut in 2020. Here is how Vlad and Nikita did it, along with some extra details about them, including their parents.
Vlad And Nikita's YouTube Channel Earns $312 312 Per Video
With the support of their parents, Vlad and Nikita joined the YouTube family on 23 April 2018. Since then, the brothers' duo began uploading videos on 'Vlad and Niki,' mainly focusing on sharing and togetherness themes. They often upload vlogs playing with toys and telling stories together. As of December 2020, Vlad and Niki have 59.5 million subscribers with 39 billion views in total, bringing in  $312 312 per video.
Furthermore, as per Social Blade, the channel also generates an impressive amount ranging between $7.7 million and $122.5 million, yearly.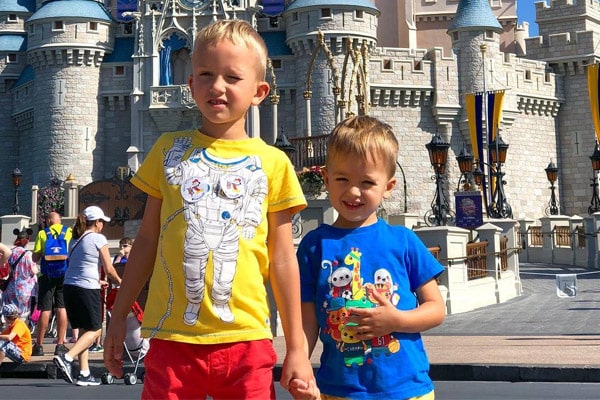 In two years, the Russian-American brothers, 7 & 8, have pulled a total of an astounding $64 million from YouTube. Currently, Vlad and Niki is the highest-rated kids' channel and the global preschool phenomenon. Each of its episodes is filled with a creative blend of live-action, animation, and music to create comedic videos for the preschool demographic.
Besides the creative kids, Vlad and Nikki, their father, Sergey Vashketov, and mother, Victoria Vashketov, also frequently appear on their channel. Their mom and dad not only get featured on their channel but also help them to post their videos across sixteen channels, which translates into thirteen languages.
Their Parents Are Also Famous YouTubers
Victoria and Sergey, the parents of global superstar kid influencers Vlad and Nikita, are also famous YouTubers. Along with assisting their two sons to create and upload their videos on their official YouTube Channel, 'Vlad and Niki', the proud parents run fifteen more YouTube Channels in eleven languages. All of Victoria and Sergey's YouTube channels feature their artistic and energetic sons, Vlad and Nikita, doing science experiments, playing with toys, and telling stories.
Aside from being YouTube producers, Vlad and Nikita's parents are also active Instagram stars. Vlad and Niki's mother, Victoria Vashketov, has over 36K followers on her Instagram. Similarly, Vlad and Niki's father, Sergey's Instagram account has over 13K followers. They often share photos of visiting different places, fishing, and enjoying their lavish life on their respective grams.
Also, the couple's youngest son and Vlad and Niki's small brother, Christian, make frequent appearances on their social media pages.
ALSO READ: Layla Blue Boylen, Facts About Jim Boylen's Daughter
Furthermore, it's not nonplussing to know that Vlad and Nikita are also famous on Instagram and Facebook. Vladislav has more than 91K follows on his Instagram, while over 61K Instagrammers follow Nikita on his gram.
You Can Also Watch Vlad And Niki In Application
The Vashketov brothers, Vlad and Niki, are utilizing the available modern technology to their best with their parents' full support. They are spreading their charm and creativity worldwide, not only via social media pages but also through applications.
View this post on Instagram

Now fans of Vlad and Niki can watch their preschooler-focused videos directly in the application developed by Apptivise USA Inc. With the subscription, Vlad and Niki's lovers will get access to over 300 exclusive videos not accessible on YouTube. Moreover, Vlad and Nikita signed a listing agreement with Haven Global, an Australian-based licensing agency, in 2019. The deal helps these kid influencers to develop new content streams and build a global consumer product program.
Furthermore, Vlad and Nikita also have an online kids store in their name. People can buy customized apparel, drinkware, throws, masks, and many more in their shop. With $64 million from YouTube, the store and application as an additional source of income might even make them a billionaire at a young age. However, for now, their total earnings are still to be calculated.
Explore more on eCelebrityBabies and get updates on Celebrity Babies, Celebrity Parents, Celebrity Siblings, and More.