Cameron Brown is the son of current associate head coach Golden State Warriors, Mike Brown. One of the acclaimed American professional basketball coaches, Mike Brown, served the Cleveland Cavaliers till he got fired for the first time in 2010. The following year, Brown joined the Los Angeles Lakers as its head coach and left it before the 2012-2013 season. Then, Brown worked in the Cavs for some time before joining the Warriors in 2016.
The 2009 NBA Coach of the Year, Mike Brown, is in a marital relationship with Carolyn Brown. The married pair, Mike and Carolyn, have two grown-up sons, Elijah Brown and Cameron Brown, who are also in sports. In this article, get to know some fascinating facts about Mike Brown's son, Cameron Brown.
Youngest Son Of Mike Brown With Carolyn Brown
Mike Brown and his long-time wife, Carolyn Brown, welcomed their son, Cameron Brown, on 27 May 1998. He is the Brown couple's second and youngest son. As mentioned earlier, they have an elder son named Elijah Brown, who is an American Basketball player.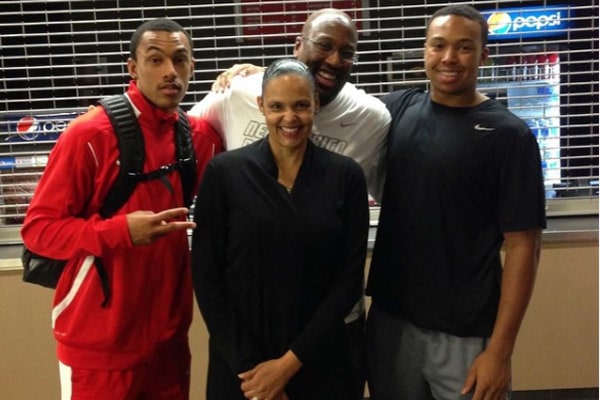 At first, Mike Brown's son, Cameron Brown, joined Mater Dei High School in California; however, got transferred and graduated from Westlake High School in 2015. Then, he enrolled at the University of Cincinnati for his further education. After a year, he got transferred to Case Western Reserve University and graduated in Biology from there.
Was An All-American Defensive End At Case Western Reserve University
Despite being a son of a basketball coach, Cameron Brown had a great passion for football than basketball. Though he played basketball during the beginning of his high school, he shifted to the football team later.
Mike Brown's son, Cameron, played as a defensive end on the football team during his graduation years at Case Western Reserve University. After his first season in CWRU in 2016, he joined the All-PAC Second Team and ALL-UAA First Team. He led his team with 4.5 sacks and won several titles and awards. During his first year, Brown was named the PAC and UAA Defensive Player of the Week. He even recorded a season-high three tackles for a loss during his team's season finale against Carnegie Mellon.
View this post on Instagram

Cameron Brown's uncle, Anthony Brown, is also a football player who played for the Cincinnati Bengals from 1995-1998 and the Pittsburgh Steelers in 1999. So, it's speculated that his football genes came from his uncle, Anthony. And a must to mention is that Cameron's father, Mike, is happy to see his son playing one of his favorite sports. We hope to see Cameron shining out soon like his dad in American Sports.
Works For A Local Kitchen Supply Company
Being the son of a famous sports personality, Cameron Brown does not need to work. His father, Mike, might have accumulated millions of dollars from his career as a basketball coach. However, he wants to earn money and gain fame individually.
ALSO READ: Coach George Karl's Children, Coby Karl, Kaci Karl, And Kelci Karl
Besides being a passionate football player, Cameron works for CUTCO. It is a U.S. based company which supplies kitchen appliances predominantly through direct sales or multi-level marketing. So, he might be earning an impressive sum of money from his job so that he does not need to rely on his parents for his daily expenses.
However, it is not sure if he is still working in the same place or has started a job in some other place.
Was With His Father When There Was A Fire At Their Home
Most of Mike Brown's fans might have heard the news of him surviving from a fire at his home in Cleveland on 27 May 2016. Then 19-year-old Cameron was with him at that time, and luckily, he did not get any harm just because of his dad.
According to SFGATE, Cameron Brown's father, Mark Brown, was in his bedroom when he heard his son's panic-stricken screams. Mark ran downstairs to the kitchen. He found flames coming from the pan Cameron was using to make mini fried pecan pies. While trying to lift the pan's handle with a dishcloth, oil spilled to the floor, where Cameron's father slipped and fell onto the rising flames.
Cameron did not get any injuries. However, the NBA Coach, Mark, suffered first, and second-degree burns on his right foot, left leg, arms, hands, and face. Also, he got second-and third-degree burns on his right leg. Later, protective dad, Mark Brown, told the media that it was a life-altering experience. It reminded him that anything could happen at any time. Probably, Cameron also learned some lessons from the accident.
Name Meaning: Cameron Brown
The name Cameron is an English originated name. Its meaning is bent or crooked.
Explore more on eCelebrityBabies and get updates on Celebrity Babies, Celebrity Parents, Celebrity Siblings, and More