Mark Jackson is a known entity in the Basketball scene. The player turned coach sought glory in both roles and is currently a diversified broadcast commentator for ESPN and ABC. The basketball phenom was incredible in both his playing time and coaching career.
As the main highlight of Mark's life is still his extraordinary career, his personal life is also nothing short of talking points. The 55-year-old divorced his wife Desiree Coleman in 2017 after more than two decades of togetherness. Mark is a father of four with his ex-wife Desiree and each, and every one of them has grown up like a charm. But in this article, we will be focusing on only one of them, Mark Jackson's daughter Heavyn Jackson.
Heavyn Is Mark's Only Daughter
Out of four children Mark has with his ex-wife Desiree, Heavyn is his only daughter. Heavyn has three brothers Mark Jackson Jr, Christian Jackson, and Micah Jackson. All four of the Jackson siblings are all grown up and are living their life. They can be regularly seen spending quality time with each other. All of Mark's children have been raised well and Mark must be proud of every one of them.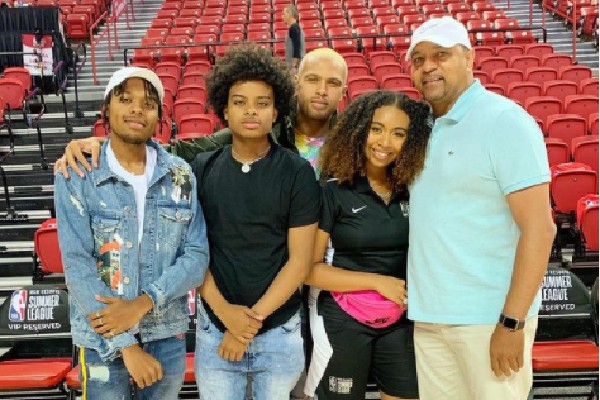 Heavyn being the only daughter, must have received all the brotherly love from her brothers and parents. Although her parents had a divorce after spending such a long time together, all of them are still close to each other. She idolizes her father and mother. Heavyn is on track to becoming a wonderful daughter to Mark that he can be proud of.
Mark Jackson's Daughter Heavyn Has Degree In Communication Studies
Heavyn completed her Bachelor's degree in Communication studies in 2017 from the University of San Francisco. As her father is already a broadcaster, she is on track to following the same path. Heavyn went to Oaks Christian School for high school before joining the University of San Francisco. Even though she has not taken the athletic approach to basketball like her father and siblings, she can play a critical role behind the scenes.
Mark Jackson's daughter Heavyn just completed her bachelor's three years ago, and she will likely continue her further education in the same field. As of now, she is looking sharp in what she is doing and will be even wonderful with time.
ALSO READ: Wyatt Snyder, Facts About Amy Snyder And Quin Snyder's Son
Heavyn Works As Basketball Communications Coordinator
Mark Jackson's daughter Heavyn has already taken big roles professionally. She is currently working as a Basketball Communications Coordinator for the NBA team Portland Trail Blazers. As the communications coordinator, she provides support and assistance to the Portland Trail Blazers Basketball Communications department while serving as a key PR contact to visiting teams and media.
View this post on Instagram

Before taking on the job as a communication officer, Heavyn was engaged in a variety of other roles such as teaching assistant, ABA therapist, and NBA assistant. After juggling through jobs, Heavyn has decided to stick close to basketball and serve as the communications coordinator. She can be regularly seen in the court with her father, looking sharp as always. Let's hope she succeeds in her goals, and who knows; she can be a broadcaster like her father in no time.
Name Meaning: Heavyn Jackson
Heavyn is a name of English origin, which means 'Beautiful person.'
Explore more on eCelebrityBabies and get updates on Celebrity Babies, Celebrity Parents, Celebrity Siblings, and More.'