After the disheartening death of Paul Walker, his will was carried by his wonderful siblings consisting of two sisters and two brothers. While he had an exhilarating career as a movie star, most of his siblings, on the other hand, haven't really followed him on the same line. Paul Walker's brother Cody Walker is the only one who has been slowly solidifying his role in the industry.
On the other hand, Paul Walker's sister Ashlie Walker has not been in either mainstream media or social media, but we have put together some interesting information about her that you would probably want to know. So, without further delay, let's get right into it.
Ashlie Is Paul's Younger Sister
The Walker siblings consist of Amie Walker, Caleb Walker, Ashlie Walker, and Cody Walker. While Cody is the youngest sibling altogether, Ashlie is the youngest sister in the family. Growing up, all of them had a splendid time together, which holds them together even to this day.
View this post on Instagram

All of the Walker siblings have found a lot of success in their respective fields. During the saddening period after Paul's demise, the siblings had each other to hold them stronger, which just shows how strong their connection is. All of them can still be seen spending a lot of quality family time every now and then. Although Ashley remains out of media most of the time, she did make an appearance on the TV show 'I am Telling' with big brother Paul.

Ashlie must be the only sibling with the least amount of info out. She does have a private Instagram, which has zero followers and made a narrative appearance in the documentary 'I am Paul Walker' but has not revealed much about her personal life. The only thing we can do is to keep hoping that she will soon come out in media and share her professional as well as personal life.
Paul Walker's Sister Ashlie Is Often Mistaken For Another Ashlie Walker
While sharing a common name isn't something unheard of, Paul's sister is often mistaken for a British actress cum life coach who goes by the same name. A lot of sites fall short of realizing that the two aren't the same. And the most notable one coming from none other than IMDb, which has mentioned the two as the same person.
The other Ashlie is probably unaware of this situation, while fans are confused by the misinformation that has been floating around. Paul Walker's sister Ashlie remains hidden from the media, so we have to wait and see to exactly know what her professional and personal life actually holds.
The Walker Family Share A Impeccable Bond
In this modern era, many families fall short of preserving the precious bond; the Walker family, on the other hand, seem inseparable. To this day, they frequently have a get-together and spend some quality time. While Paul is being missed, the family has now moved on and is continuing to preserve his brilliant legacy as an actor.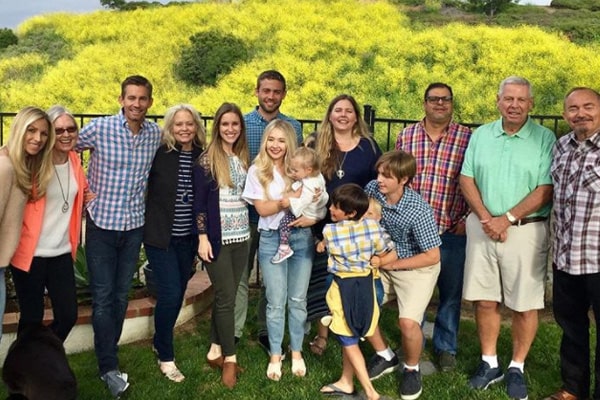 Nothing beats the warmth of the family, and this is more than evident after looking at the Walker family. The way they come together as a whole is exemplary, and others should learn from them how important family is in this modern era. As fans, we also hope to see this wonder of a family to remain the way they are and keep giving all the wholesome moments far into the future.
Explore more on eCelebrityBabies and get updates on Celebrity Babies, Celebrity Parents, Celebrity Siblings, and More.