Jenna Fischer is one of the celebrated actresses of the American acting industry. Fischer is mainly famed for portraying the role of Pam Beesly on The Office, the NBC sitcom. She even achieved the Primetime Emmy Award for Outstanding Supporting Actress in a Comedy Series for her role as Pam. Apart from that, Jenna Fischer has also appeared in numerous films, including Blades of Glory, The Promotion, and Splitting Up Together.
The beautiful actress, Jenna Fischer, is the daughter of Anne Fischer and James E. 'Jim' Fischer. She grew up with her younger sister, Emily Fischer, now Emily Elmore. Jenna Fischer's Sister, Emily, also appeared in some of her acting projects. Here, get to know when Emily accompanied her sister in the acting industry, along with some facts about her.
Jenna Fischer's Sister Appeared On Celebrity Family Feud
Recently, on 13 October 2020, Jenna Fischer appeared in the American television game show Celebrity Family Feud along with Angela Kinsey. They played against Scott Foley and his family on the show to collect funds for the Adopt A Classroom organization. Jenna Fischer's Sister, Emily Fischer, mother, Anna, and Angela Kinsey's sister, Janet Lee Kinsey, also participated. Even Jenna's dad, Jim, was sitting in the audience.
We filmed this back in February and it's finally airing tonight! Team Office Ladies playing for @Adopt_classroom on @FamilyFeudABC Our team: Me, @AngelaKinsey, My Mom, my sister Emily and Angela's sister Janet! My Mom, Emily and Janet are all teachers! pic.twitter.com/kNhKinBCUt

— Jenna Fischer (@jennafischer) October 13, 2020

Moreover, during the Fischer sisters' childhood, they played in many other theater dramas together. However, Jenna Fischer chose to continue her career in the acting industry, while her sister, Emily, chose a different field. Though Emily is in a different field in the present, she has worked in movies such as The Captains, As the world turns, and Des McAnuff: A life in stages in the past.
Currently, Jenna Fischer's sister, Emily Fischer, is a third-grade teacher at St. Ambrose School. Moreover, Emily, the creative and artistic lady, co-owns a store named Creative Fiber Works, which supplies Punch Needle Kits, Patterns, and Custom Patterns. Emily undoubtedly loves her job, teaching, and her craft store. We can see Emily's love for craft and dedication to her teaching profession clearly on her social media pages.
Married And A Mother Of Two
Jenna Fischer's sister, Emily Fischer, tied her marital knot with Dwight David Elmore on 9 October 2004. Emily Fischer's husband, Dwight Elmore, is the former principal of St. Gertrude School at Archdiocese of Saint Louis. Currently, he serves at Mehlville School District. Mr. Elmore met his wife, Emily, at St. Ambrose School, while working there as a teacher.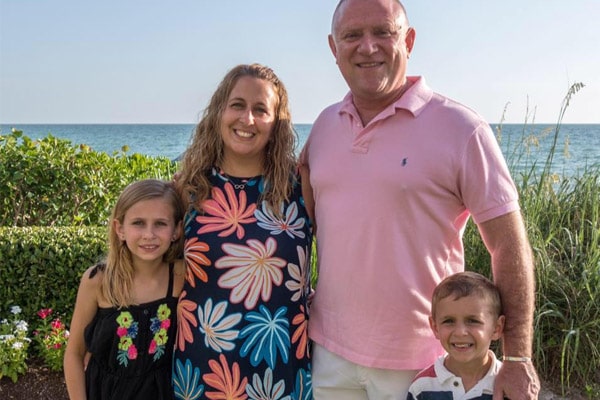 The over a decade of togetherness of Emily and Dwight as husband and wife has blessed them with two adorable kids, a son, and a daughter. The Elmore family often goes to visit various destinations during their holidays. Emily and her partner, Dwight, frequently posts pictures of having fun with their kids, CeCe Elmore aka Cecelia, and Eddie Elmore, on their respective Facebook.
ALSO READ: Vijay Chokalingam, Only Brother Of American Artist Mindy Kaling
Jenna Fischer Renovated Emily's Home In 2017
Caring sister Jenna Fischer gave a makeover to Emily's home in St. Louis in April 2017. Jenna Fischer's sister, Emily's dishwasher, had quit drying dishes for a long time. Moreover, the condition of other home appliances was also the same as they were nearly 40 years old and delicate. So, Jenna gave a full makeover to her home with the help of the home design website Houzz in 2017. However, the house still has the original colored tiled bathrooms from the 50s.
The home renovated by Jenna for her sister Emily was previously her grandparent's home. Emily and her better-half Dwight Elmore bought the 1300 square foot, ranch brick St. Louis home after their grandparents died. It is the same home where Emily and Jenna Fischer's father, Jim, grew up and where they spent countless holidays.
Currently, Emily lives a happy and blissful life with her husband and children in St. Louis County home.
Explore more on eCelebrityBabies and get updates on Celebrity Babies, Celebrity Parents, Celebrity Siblings, and More.