If you are familiar with the name Ziggy Marley you probably know he is legendary singer Bob Marley's son. Ziggy has not been short of success on his won rights as well. The multiple Grammy winner has been giving continuation to the Reggae genre that his father was known for.
Well, music is not the only thing Ziggy has in common with his father. Likewise, Bob, Ziggy, also has a pretty large number of children. He is an altogether father of seven children with three daughters and four sons. In this article, we have put together some interesting facts about Ziggy Marley's daughter Judah Victoria Marley.
Judah Marley Is Ziggy's Youngest Daughter
Out of eight children and three daughters, Judah Marley is the youngest daughter of the singer Ziggy Marley. She was born in 2005. Apart from Judah, the singer has two more daughters Justice Marley and Zuri Marley. While Justice and Zuri have found their own lives and become self-sufficient, the 15-year-old is living with her father, along with three little brothers Gideon Marley, Abraham Marley, and Isaiah Marley.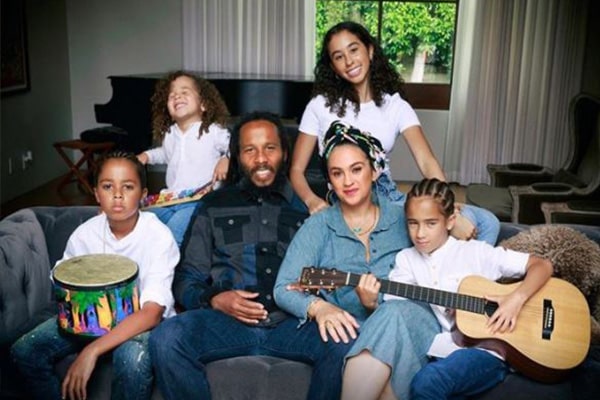 Judah is getting all the love she deserves being the youngest daughter of the family. Moreover, she is also an elder sister to Gideon, Abraham, and Isaiah, so she is also a role model for them.
She Was Featured In The Song Family Time Of Ziggy Marley
As it seems, Judah is going to follow her father's footsteps into music. She has already made her moves and was featured in Ziggy's music video called 'Family Time.' The song is about the importance of spending time with one's family and how happy it makes people.
So far, the 15-year-old is looking sharp, and we would probably see her singing and writing songs like her father, grandfather, and everyone else of the Marley family. Moreover, she has got mentorship from her father, which gives her more chance to have a taste of success.
READ MORE: Despite Not Being Married, How Many Children Does Pitbull Have?
Ziggy Marley's Daughter Judah Did A Skin Care Video
Ziggy and Judah were featured on a video from Cosmopolitan, where they did a skincare routine together. Judah and Ziggy's bond is even more visible through their recent video. The two had a genuinely great moment. Judah also looked sharp as a beautician and did a pretty good job of showing her daily skincare routine to father Ziggy in a humorous video.
View this post on Instagram

Judah's beautician skills are also complementary, so who knows, we might see her being a beautician. Let's hope we get to see more of her beauty videos in the future.
Judah Is Away From Social Media
Ziggy Marley's daughter Judah seems to keep a distance from social media. While Judah is still a teenager, she has not followed the trend of joining social media platforms. Moreover, Judah seems to be shy about being on the camera more than often.
Either it is to avoid unnecessary attention, or Judah simply does not want to be on the social media scene; we have to respect her decision and look forward till she becomes an adult.
Name Meaning: Judah Victoria Marley
Judah is a biblical name coming from the name of the fourth son of Jacob. The word Judah has a general meaning 'praised.'
Explore more on eCelebrityBabies and get updates on Celebrity Babies, Celebrity Parents, Celebrity Siblings, and More.