If you're a fan of Reggae music, you have probably heard the name, Ziggy Marley. The son of legendary singer Bob Marley has been more than successful as a singer following what his father had left behind. While Ziggy has most definitely continued his father's legacy in music, he has also not left him behind in the family.
The 52-year-old reggae singer is a father of seven wonderful children, and out of those seven, four are sons. Most of Ziggy's children are looking promising to follow his father. But in this article, we will be focusing on Ziggy Marley's son Gideon Robert Nesta Marley. Don't forget to stick to the end of the article to know some interesting facts about him.
Eldest Son Of Ziggy With Wife Orly Agai
Ziggy Marley's son Gideon is his eldest son from his only marriage. Ziggy and his wife Orly are parents to four children consisting of daughter Judah Victoria Marley along with other sons Abraham Selassie Robert Nesta Marley and Isaiah Sion Robert Nesta Marley. Gideon is the big brother to Abraham and Isaiah, so he is also taking the responsibility of being a role model for his young brothers. His other siblings include Bamabata Marley, Justice Marley, and Zuri Marley.
The Marley siblings are very close to each other and spend a lot of time together. Going through Ziggy's social media accounts, we can see how much time the siblings spend with each other. The three brothers especially seem inseparable and are always glued to each other.
ALSO READ: How Many Children Does Rapper Lil Wayne Has?
Gideon Accompanies His Father On Singing Sessions
Gideon has accompanied his father, Ziggy, on a singing session multiple times. The 13-year-old is also looking really promising as a singer. Likewise, his younger brother Abraham has also been part of Ziggy's session on different instances. The two seem to have a really good connection and go along really well.
View this post on Instagram

Ziggy Marley's son Gideon is looking like an emerging talent, and we might see him soon become one of the very best in the Reggae industry like his father, brother, grandfather, cousins, and uncles. The Marley family sure is full of amazing talent. After all, they have got the blood of the legend Bob Marley. Gideon is already making his father proud, and as things stand right now, he will make him even prouder.
Gideon Is Very Close To His Siblings
One thing that really lives up to the hype of the Marley family is the bond between the siblings. All seven of them are pretty close to each other and spend a lot of time with one another. As for Gideon, he is particularly close to his two younger brothers. The three can be seen spending time fooling around or playing sports like football.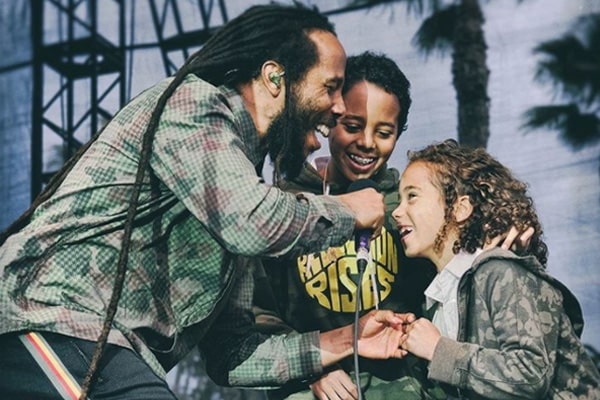 All three of them also accompany their father in different sessions. Gideon is always together with Abraham and Isaiah and also looks after them as a big brother. Even at the early age of thirteen, he has been an incredible son to Ziggy. Let's keep our hopes high that we will see him become a superstar in the near future.
Name Meaning: Gideon Robert Nesta Marley
Gideon is a masculine name and surname of Hebrew origin. Gideon can be translated into 'feller' or 'hewer,' which means 'great warrior' in Hebrew.
Explore more on eCelebrityBabies and get updates on Celebrity Babies, Celebrity Parents, Celebrity Siblings, and More.