Bold and Beautiful De'arra Taylor is a YouTube vlogger best recognized for her YouTube Channel 'De'arra & Ken 4 Life.' Taylor and her husband-to-be, Ken Walker, document their family life through different videos to set a positive example for their viewers. The couple also hosts their very own web series called De'arra & Ken's Prank Show.
When you google for De'arra Taylor's dad, the first result you get is the professional American Rapper Yo Gotti. So, is the celebrity rapper Yo Gotti really De'arra Taylor's dad, and how is their relationship? Know it all here.
Is Yo Gotti Really De'arra Taylor's Dad?
In 2016, YouTuber De'arra Taylor claimed that the famous American producer and rapper Yo Gotti is her biological father via a tweet on her official Twitter page. It brought many of Yo Gotti as well as De'arra Taylor's fans on a total surprise. Since then, De'arra has shared a couple of posts on her social media pages, telling that her father is Yo Gotti.
Yes, Yo Gotti is my biological dad..

— De'arra Taylor (@dearra) October 24, 2016

However, Yo Gotti himself has not talked anything on this topic in public. Moreover, it seems like De'arra Taylor and her rumored father, Yo Gotti, have never met each other in person. One of De'arra Taylor's tweets in 2018 is proof that her dad often walks past her but ignores her as if he has not seen her or know her.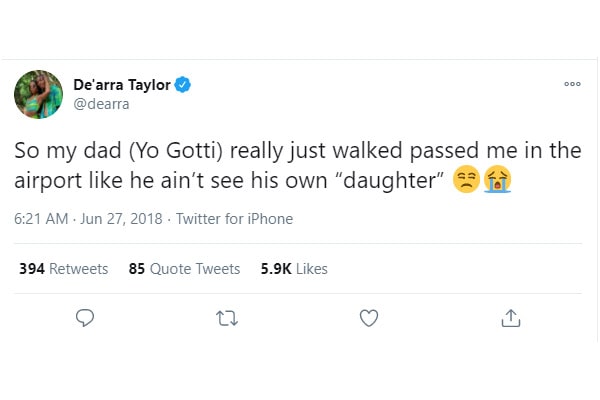 Furthermore, many of Yo Gotti's fans claim that the name De'arra stated by many of the online magazines and the YouTuber De'arra Taylor are different persons. But, we cannot ignore the tweet from YouTuber De'arra's official Twitter page too.
So, it's still a mystery to be solved if Yo Gotti is really YouTuber De'arra Taylor's dad or not. We hope De'arra and Yo Gotti will soon come out in public together to make everything clear about their relationship.
Yo Gotti's Other Kids
According to various online sources, Yo Gotti is a father to two more kids besides De'arra with his wife, Lakeisha Mims. Just Richest magazine notes that those are not the only kids of the rapper. It reports that Yo Gotti dated a woman named Jammie Moses, also with whom he fathered three kids during his career in the American rap industry.
Going through the social networking pages of Yo Gotti, it seems like despite being gossiped to have more than three kids; he often posts photos with his two daughters; Kayla Mims and Mariah Mims only.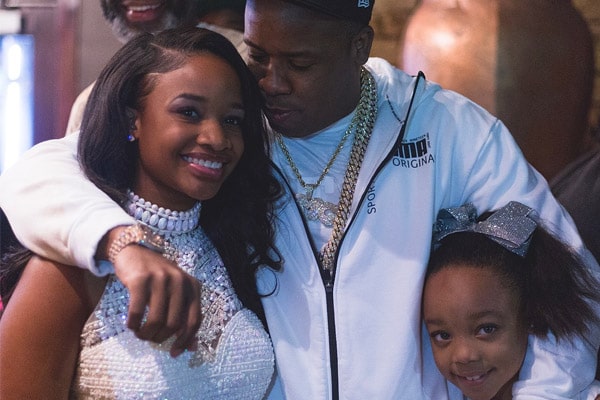 In 2018, Yo Gotti gifted his then-sixteen years old daughter Kayla the 2018 Mercedes-Benz SUV. Most of Yo Gotti's family members and friends were present there in the birthday ceremony of Yo Gotti's daughter, Kayla. But, on that occasion also De'arra was not present there, which hints that probably Yo Gotti's family has not accepted De'arra as a part of their family to date.
De'arra And Her Father Never Appears On The Limelight Together
Although De'arra Taylor insists that Yo Gotti is her father, she has never been spotted together with him in public. Being a part of the bright limelight, both Yo Gotti and De'arra are always in the center of attention of the public's eyes. But, no one has ever seen these rumored father-daughter duo attending any red carpet events or other special occasions together.
READ MORE: Meet Both Of Rapper Offset's Parents, Had Reunited With Father After 2 Decades
The personal life of De'arra and her father, Yo Gotti, seems to be a real mess like many other celebrities. Neither De'arra nor Yo Gotti has ever talked about their family life openly in public to date. So, the actual relationship between De'arra and Yo Gotti is still a very confusing issue for their fans. We hope De'arra and Yo Gotti both will come to media soon, disclosing the reality of their relationship gossip.
Explore more on eCelebrityBabies and get updates on Celebrity Babies, Celebrity Parents, Celebrity Siblings, and More.