Posie Rayne LaBrant is the daughter of famous YouTuber and TikTok star Cole LaBrant. Cole is famous for running the YouTube channel The LaBrant Fam in collaboration with his long-time wife Savannah LaBrant, aka Savannah Rose Soutas. The LaBrant couple posts fun family videos like family announcements, pranks featuring their family members, and many more. Previously, Cole LaBrant gained fame as a member of the Vine collaboration channel Dem White Boyz with his friends John Stephen Grice and Baylor Barnes.
Being the social media star Cole LaBrant's daughter, Posie Rayne LaBrant is also a part of the public attention. She is ruling the virtual world with her alluring smile and stylish photos. Here, in this article, get to know some more interesting facts on Posie.
Born To Cole LaBrant And Savannah LaBrant
Posie Rayne LaBrant is the first-born of the internet personalities Cole LaBrant and his wife Savannah LaBrant together. The happy couple welcomed their daughter, Posie in the LaBrant family on 28 December 2018. On 9 May 2018, Posie's parents had filmed themselves and announced to their viewers that they were pregnant with her.
After the birth of Posie, her parents changed the name of their YouTube channel from Cole&Sav to The LaBrant Fam. Cole and Savannah uploaded the video of Posie's birth on YouTube a day after her birth on 29 December 2018. It had grossed over 8.5 million views in just less than five days. As of 2019, the video of the birth of Posie has over 13 million views.

The overwhelmed parents of Posie, Cole, and Savannah did not just share the video of her birth. They recorded every special moment after Posie's birth, like Posie's first meeting with her family members, her name revelation, and her every moment from hospital to her home on their YouTube channel.
Cole LaBrant's daughter, Posie, is about to be two years old in December of this year. And, at such a young age, she seems to have inherited her mother's fashion sense. Posie is a trendy chic toddler who loves posing for the lens and a supermodel who often gets featured on her parents' social media pages.
A Social Media Star
The adorable and enchanting daughter of Cole and Savannah LaBrant, Posie LaBrant, does not just appear on her parents' Instagram, TikTok, and YouTube channel. The little princess of Cole, Posie, has an Instagram account on her name, managed by her mom and dad.
As of November 2020, Posie Rayne LaBrant's Instagram has over 1 million followers. Going through Posie's Instagram page, anyone can guess how naturally she presents herself in front of the camera and knows every one of those tricks to attract the people who visit her profile. She loves dressing in fashionable clothes chosen by her parents and enjoys posing while getting clicked.
View this post on Instagram

Besides being a toddler Instagram star, Posie also gives frequent appearances on her parents' YouTube and TikTok. Cole LaBrant's daughter enjoys making TikTok videos with her mom and dad and also is a frequent guest of her family's YouTube channel. At nearly two, Posie spends her day full of modeling and having fun with her family.
Posie LaBrant's Siblings
Cole LaBrant's baby girl, Posie LaBrant, is the middle sister of the LaBrant Family. Posie has one younger brother and an older half-sister from her mother's previous relationship. Posie LaBrant's brother, Zealand Cole LaBrant, joined the LaBrant family on 29 July 2020. Similarly, Posie's elder half-sister, Everleigh Rose Smith Soutas, was born on 14 December 2012 to Savannah Soutas with her ex-boyfriend, Tommy Smith.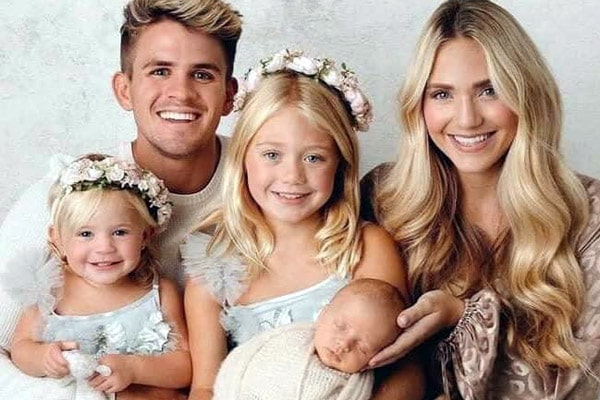 Like Posie, her siblings are also the internet sensation. They also have an Instagram account in their name. In fact, Posie's sister, Everleigh, is already a famous social media star, ruling most of the social media pages like Instagram, YouTube, and TikTok.
READ MORE: 5 Facts About Eliza Roberts And James Simons's Daughter Morgan Simons
Posie has a great bonding with her siblings. They love playing together, making videos with their parents, and visiting different places together. Surfing through the photographs and videos of the LaBrant siblings, everyone can guess how blessed they feel to have each other in their life. We hope their bonding and love for each other stay strong till eternity.
Name Meaning: Posie Rayne LaBrant
The girl name Posie is an English origin name. It is an English feminine form of Joseph, which means 'he will add' or 'he will increase.'
Explore more on eCelebrityBabies and get updates on Celebrity Babies, Celebrity Parents, Celebrity Siblings, and More.