Everleigh Rose Smith Soutas is a famous fashion blogger and social media phenomenon, Savannah LaBrant's daughter. LaBrant, born as Savannah Rose Soutas, is famed for running the family YouTube channel The LaBrant Fam, previously known as Cole&Sav. She is also a former photographer, blogger, TikToker, and an Instagram star. Savannah is currently in a marital relationship with actor and social media star Cole LaBrant.
Savannah LaBrant's daughter, Everleigh Soutas, is also a young social media star and a fashionista. In this article, we will be tailing some exciting facts about her. So, get ready to know them all here.
Born To Savannah LaBrant And Her Ex-boyfriend Tommy Smith
The internet personality Savannah LaBrant welcomed her daughter, Everleigh Soutas, on 14 December 2012 in Orange County, California. Everleigh is the first child of Savannah with her ex-partner, Tommy Smith. At the time of the birth of Everleigh, her father, Tommy, and her mother, Savannah, were nineteen years old. So, sadly, Savannah had to drop out of her college to deliver and look after Everleigh.
View this post on Instagram

In a book named Cole & Sav: Our Surprising Love Story, co-authored by Everleigh Soutas' mom, Savannah, she shared with the readers that her relationship with Everleigh's biological dad was very toxic. After their daughter, Everleigh's birth, also their relationship was just overall unhealthy. So, when Everleigh was three years old, her parents went separate ways.
Though Savannah and Tom are no more together, Everleigh often gets to meet her biological father. According to Everleigh Soutas' mother, Savannah, the father-daughter duo sees each other once a week for a couple of hours. Moreover, we can also see the photos of Everleigh with her birth father frequently on her parents' social media pages.
A Social Media Star
Some kids are born talented, while some get groomed by their elder ones to be the ones. Savannah LaBrant's daughter, Everleigh, falls in the first category. Ever since she was just eight months old, she began modeling alongside her gorgeous mom, Savannah. And, coming to November 2020, she is already a social media star at an early age of nearly eight years old.
Everleigh Rose has an Instagram page to her name, which has 5.1 million followers! Her momma, Savannah, runs her Instagram page where her fans can see her frequent modish photos and creative videos with her family members.
Furthermore, the talented daughter of Savannah, Everleigh, also shares another Instagram account named Foreverandforava with her BFF Ava Foley. Everleigh's mom, Savannah, and Ava's mom, Michelle Foley, run that account, which has over 1.1m followers as of November 2020. The Ever-Ava duo is also a famous TikToker. Their TikTok account holds over 3 million fans.

The availability of gifted Everleigh Soutas is not just limited to Instagram. She is also an active member of the YouTube community. Currently, Everleigh's YouTube page has 3.51 million subscribers. Similarly, her joint YouTube page with her best friend Ava, ForEverAndForAva, has nearly 2 million subscribers. Savannah LaBrant's daughter, Everleigh, often posts vlogs related to her family, friends, and her creative works on her YouTube Channels.
Plus, with all these endeavors, one can expect Everleigh Rose Smith Soutas' net worth to be of a grand amount even at such a young age.
Has A Half-Sister And A Half-Brother
The beautiful little girl of Savannah LaBrant, Everleigh Rose Smith Soutas, is her only daughter from her previous relationship. After separating from Everleigh's father, Savannah married actor Cole LaBrant. Together, they gave birth to Everleigh's younger half-siblings, Posie Rayne LaBrant and Zealand Cole LaBrant.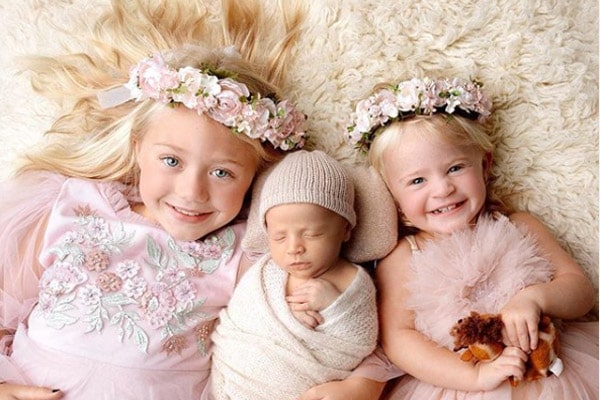 Everleigh's half-sister, Posie, joined the LaBrant family in 2018, and her half-brother, Zealand, arrived healthy on 29 July 2020 amidst the coronavirus pandemic. The eldest child of Savannah, Everleigh, feels very blessed and happy to have two younger siblings.
Like Everleigh, her small brother and sister also have Instagram accounts on their name, having thousands of followers, ran by their mom and dad. We can see numerous stylish photos of these cuties sharing their siblings' bond on their respective grams.
An Emerging Model And A Keen Dancer
Aforementioned, Savannah LaBrant's daughter, Everleigh Soutas, began appearing on social media platforms at the very young age of eight months. She started modeling with her mom since then. To date, Everleigh has appeared in numerous news shows and modeled for prestigious brands, including Kardashian Kids. It seems like she has got a lot of genes from her photographer-cum-model mom, Savannah LaBrant.
READ MORE: Actress Alexandra Tydings' Daughter Ruby Luzzatto Is In Her Mid-Teens
Besides ruling the virtual world with trendsetting photos and videos, Everleigh is a keen lover of dance as well and is also on a competition team of her school. Going through her Instagram, we can see that she always dreams of being a dance teacher when she grows up. And, to achieve her dream, she is working hard for it from now. Seeing her dance videos on her various social media platforms, anyone can guess how dedicated and talented dancer Everleigh is.
Savannah's little girl, Everleigh, is undoubtedly a real super child. Despite being a little girl, she has managed to create a buzz in the virtual world with her adorable pictures and videos of her creative works and fun times with her friends and family.
Name Meaning: Everleigh Rose Smith Soutas
The feminine name Everleigh is of ancient English origin. Its biblical meaning is From Ever's meadow; wild boar in a woodland clearing.
Explore more on eCelebrityBabies and get updates on Celebrity Babies, Celebrity Parents, Celebrity Siblings, and More.