Zealand Cole LaBrant is the son of the famous YouTuber and fashion blogger Savannah LaBrant. Savannah is popular for running the family YouTube channel The LaBrant Fam with her husband, Cole LaBrant. The American author Savannah LaBrant documents her family life via social media platforms like Instagram, TikTok, and YouTube. Besides being a social media star, beautiful Savannah is also a professional photographer.
Being a son of the YouTube phenomena, Savannah and Cole LaBrant, Zealand is also a star and a part of the limelight since birth. Many of the LaBrant family's fans are eager to know the life of Savannah LaBrant's son, Zealand. So, here, in this article, get to know almost every fact of this adorable celebrity baby, Zealand Cole LaBrant.
Born To Savannah LaBrant And Cole LaBrant
Savannah and her husband Cole LaBrant, welcomed their baby boy, Zealand Cole LaBrant, on 29 July 2020. Savannah delivered her son, Zealand, at the nearest hospital, weighing 7 lbs 8 oz and measuring 19.25 inches at 2:42 am. The overwhelmed parents of Zealand had posted a video on their family YouTube channel featuring his birth.
After Savannah knew that she was pregnant with Zealand, she and her husband, Cole, had announced the news through their respective social media pages. Well, they just let the public know that they were going to have a boy, and his name starts with the letter Z. The LaBrant couple revealed the name of their son, Zealand, only after some days of his birth.

The adorable little guy, Zealand's father, was first to announce his arrival via an Instagram post on 29 July. Cole expressed his surprise at his beloved wife's strength through the same post. Moreover, Little Zealand's parents published a birth vlog capturing the first seconds of his life. Zealand LaBrant's father, Cole LaBrant himself, filmed all the moments during his birth and even cut Zealand's cord himself.
ALSO READ: Alastair Stewart, Father Of Four Children, Meet All Of Them
The doctors kept Savannah LaBrant's son, Zealand, in the hospital for six days to conduct tests and determine why his bilirubin numbers were so high. Some other tests were also done to determine whether or not Zealand has jaundice or other birth complications. Fortunately, there were no serious problems with him, and he was taken to his home after the sixth day of his birth. Currently, Zealand is entirely healthy and enjoying his childhood with his family members.
Youngest Among Three Kids Of Savannah LaBrant
Zealand Cole LaBrant is the youngest child of Savannah LaBrant and Cole LaBrant together. Besides Zealand, Savannah has a daughter named Everleigh Rose Smith Soutas from her previous relationship with Tommy Smith. Everleigh is the eldest among Savannah LaBrant's kids, who was born in 2012. Similarly, Zealand has another elder sister, Posie Rayne LaBrant.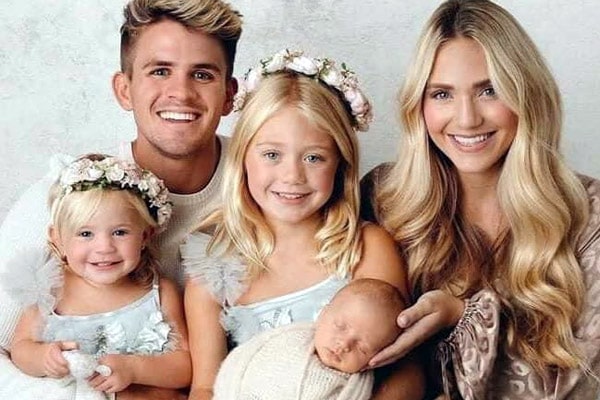 Zealand LaBrant has a great bonding with his elder siblings. He loves spending time with his sisters playing and doing different fun activities. We often see him on his parents' social media accounts posing and having fun with his big sisters. Seeing Zealand's photos with his parents and sisters, anyone can guess that the LaBrant siblings are so fond of each other.
Appears Frequently On His Parents' Social Media Pages
Like his older sisters, Everleigh and Posie, Zealand also frequently appears on his parent's YouTube channel, TikTok, and Instagram. He seems to enjoy posing in front of the camera, being a part of his sister's fun projects, and accompanying his parents on their TikTok and YouTube videos.
View this post on Instagram

Furthermore, the adorable son of Savannah LaBrant, Zealand, also has an Instagram account to his name, which is, of course, operated by his mom and dad. As of November 2020, his Instagram page has over 500k followers making him an Instagram star at such a young age. Each of Zealand's photos uploaded by his parents on his gram grosses more than 200k likes.
Seeing Zealand's screen presence, it seems like he will also grow up to be just like his social media star sisters. And in no time, he will also rule the virtual world with his talents like his celebrity parents.
Name Meaning: Zealand Cole LaBrant
Zealand is an English origin name. It's meaning is From the Sea-Land.
Explore more on eCelebrityBabies and get updates on Celebrity Babies, Celebrity Parents, Celebrity Siblings, and More.