Monty Williams is a former player and now an American professional basketball coach and an executive who is the head coach for the Phoenix Suns of the National Basketball Association (NBA.) The former head coach of the Pelicans from 2010 until 2015 was also an assistant coach with the United States national team under Mike Krzyzewski.
In May of 2019, Monty was hired to be the next head coach of the Phoenix Suns, after the 76ers' season and the 2019 NBA Playoffs. While Monty's professional life is nothing short of accomplishments, his personal life has seen quite a lot of ups and downs. The father of five has managed to balance both worlds quite remarkably.
A lot is yet unknown about him as a parent, so we have put together some interesting facts about Monty Williams' son Elijah Williams that you may not have known beforehand.
Elijah Is Monty's Eldest Son
Born in 2009 to Monty and Ingrid Williams, Elijah is the eldest son of basketball devotee Monty Williams. The eleven-year-old is also interested in basketball and can be seen accompanying his father in games. Elijah has four other siblings, which consist of three elder sisters Lael Williams, Faith Williams, and Janna Williams, as well as a little brother named Micah Williams.
All of the Williams siblings are slowly coming of age, and they have a precious bond with each other. With a big family such as this, there is rarely a time that the things are not lively. Monty sure is lucky to have such a wonderful family that supports him throughout his journey as a coach. We, as fans, hope that Elijah, along with all the Williams siblings, continues to have this precious bond.
READ MORE: Arianna Vogel, Facts About Frank Vogel's Daughter With Wife Jenifer Vogel
Monty Williams's Son Elijah Has Very Limited Presence In Media
Monty Williams' son Elijah has very little to no presence in the media. He has been keeping the eleven-year-old away from the spotlight for all this time.  It's pretty sad that we don't have much information about this aspiring youngster. But it is probably best for him to stay away from the unwanted attention that comes from the media.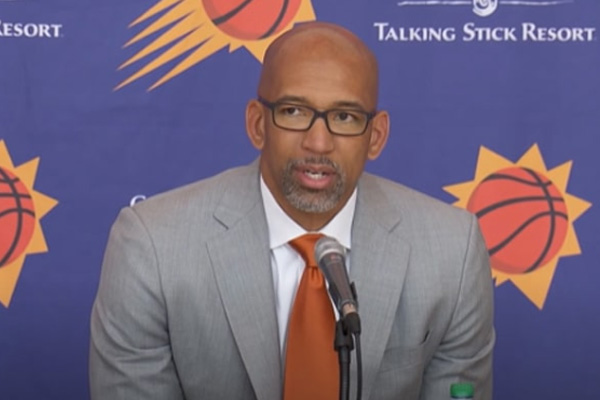 Elijah has spent more than a decade without the unnecessary attention that comes from these social media platforms. The kid is looking like a promising young talent. And when you have got a father like Monty, there's no scarcity of exposure and opportunities. Let's hope we get to see him more often as he comes of age slowly.
Elijah Williams's Mother Died In A Car Accident
Elijah had to go through a tragedy at a young age when his mother died in a car accident back in 2016. His siblings were fortunate enough to have survived the crash. This tragic event definitely left a mark on the young kid. Elijah is also lucky to have a father like Monty, who promised to change himself rather than changing his kids' lifestyle.
Elijah will definitely miss out on the motherly love. But he will get nothing short of nourishment from his step-mom Lisa Keeth. Elijah and his siblings seem to have gotten along just fine with their new step-mom. Let's hope we get to see more of them in the coming days.
Name Meaning: Elijah Williams
Elijah is the name of a Hebrew origin. The primary meaning of the name Elijah is 'My God is Yahweh-the national god of the kingdom of Israel.'
Explore more on eCelebrityBabies and get updates on Celebrity Babies, Celebrity Parents, Celebrity Siblings, and More.