Debbe Dunning is an American actress who gained quite a popularity in the nineties. She started to make even more headlines after marrying the former American volleyball player Steve Timmons. Unfortunately, the couple's marriage came to an end in 2018 after more than two decades together. 
Debbe and Steve have three children together, Spencer Schae Timmons, Stoney Timmons, and Sysco Timmons. In this article, we will be covering the life of Debbe Dunning's son Stoney. Stoney is the eldest son of Debbe and was born in the year 2000. His life till now has some intriguing facts to cover, which we will be doing today.
Stoney Timmons Played Basketball In Highschool
Debbe Dunning's son Stoney played basketball while he was in high school. Going through his Instagram account, we can see that he was part of his high school's basketball team. It is not sure whether he is just fond of basketball or wants to make a career for himself out of it. 
If he decides to stick with basketball, he will be doing sports just like his father, a professional volleyball player. Although they are fond of different sports, Stoney inherited sportsmanship from his father for sure. Now, only time will tell what this celebrity child's future holds. 
Stoney Timmons Dating Riley Sommers 
As for the latest record, the 20-year-old was dating his high school sweetheart Riley Simmons till 2019. The couple used to spend a lot of time together, which can be clearly seen through both of their Instagram handles. Their current relationship status is unknown because both of them have not given an update about it for quite some time now.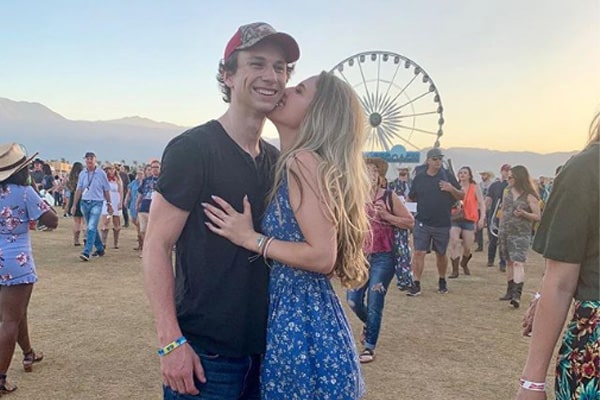 Whether the couple is currently dating or not, they must be living their life happily. Stoney was already in stardom since the time of his birth, so he must have had it easy to get many friends around him. Until further information comes out about this couple's relationship, let's hold our seats and wait patiently.
Stoney Was Featured In His Mother's Show
Stoney Timmons has made an appearance on the show 'Debbe Dunning's Dude Ranch Roundup, ' which aired for a year from 2017 to 2018. He portrayed himself in a total of two episodes 'Red Rock Ranch (2018)' and 'C Lazy U (2017).'
Stoney has shown interest in both of his parents' work lines, so only time will tell which career he will actually choose for himself. 
Stoney Has A Great Bonding With Siblings
Going through Stoney Timmons's Instagram account, we can see he has a great bond with his two siblings Spencer and Sysco. The trio can be seen spending a lot of time together. From attending weddings together to traveling to different destinations, their bond can be the definition of a siblings' relationship.

Spencer and Sysco both are pretty close to Stoney. His younger brother Sysco is very fond of skateboarding. In fact, he also has a YouTube channel dedicated to skateboarding. Let's hope we get to see the precious bond between these siblings for many more years to come.
Debbe Dunning's Son Stoney's Insta Was Last Updated More Than A Year Ago
Since April of 2019, Stoney Timmons's Instagram is pretty stagnant. His last post being with his girlfriend, Riley Sommers. The reason for his time off social media can be anyone's guess, so its' pretty hard to know what he is up to these days. As history shows him having an interest in basketball, he could very well be engaged in college-level basketball. 
As for Stoney's education, he should be currently in college. His girlfriend, Riley Sommers, joined the San Diego State University. Stoney could be currently focusing on his career to develop himself as a competent individual to stand independently. 
Explore more on eCelebrityBabies and get updates on Celebrity Babies, Celebrity Parents, Celebrity Siblings, and More.