Debbe Dunning is an American actress who made headlines after marrying the former American volleyball player, Steve Timmons. The couple unfortunately divorced in 2018 after spending nearly two decades together. They have three children together, Spencer Schae Timmons, Stoney Timmons, and Sysco Timmons.
Spencer is their eldest child and was born in 1996 before they even married. Furthermore, Spencer grew up as a star-kid with lots up hype around her while she was not even born. She has been an incredible daughter to her parents, and even though she is a star's child, it has not influenced much in her career. Today, we will be covering some intriguing facts about Debbe Dunning's daughter, so don't forget to read the whole article.
Spencer Was A Cheer Leader At Highschool
The 23-year-old used to do cheerleading while she was in high school. As we go through her Instagram account, we can see that she spent a good amount of time cheerleading for her high school team. Although it is not clear which high school she went to, we do know they have a team named Falcons.
Spencer was promising as a cheerleader, and it could very well be the signs showing she is interested in modeling or acting. She has the perfect body and physique to thrive in her mother's footsteps. But only time will tell which career path she opts for.
Debbe Dunning's Daughter Spencer Shae Went To San Diego State University
Spencer went to study at San Diego State University for a B.S. degree. She recently revealed that she graduated after spending four years at the college. Her major is not mentioned anywhere, so it's pretty hard to speculate what she studied at the university. She had a history with cheerleading, but we could not see her involvement in cheerleading during her college years.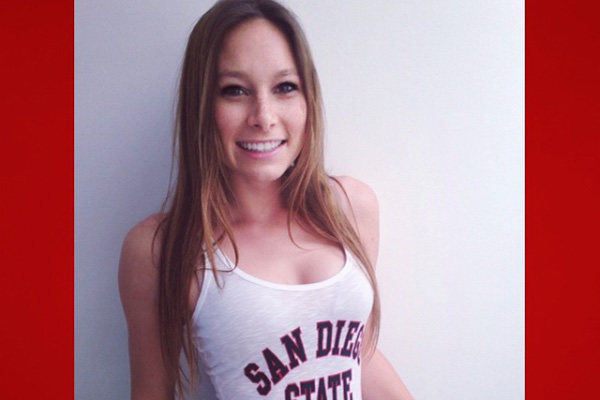 Spencer seems to be a multitalented individual, so we have to be patient and wait for her to choose either a career like her mother or a scholarly approach.
She is Dating Kevin LaMothe
Spencer is currently dating her boyfriend, Kevin LaMothe. According to her Instagram post, the couple has been together for two years now. We also learned that Kevin works at a restaurant in San Diego, California, from the same post.
View this post on Instagram
Plus, it seems like Spencer previously dated her ex-partner Billy Maggs, but things did not work out for them. This time around, as the couple has been together for two years now, it looks like they are in for the long run. Let's hope we get to see some cute and wholesome moments from them in the coming days.
Spencer Timmons Likes To Travel A Lot
Spencer likes to travel a lot. Going through her social media handles, she can be seen spending most of her time, either with friends at the beach or traveling to different places with her boyfriend. The recent college graduate sure is a travel nerd.
All in all, Spencer is enjoying her life to the fullest. Let's hope the beautiful Spencer will keep living her life with a happy face for many more years to come.
Spencer Contracted The COVID-19
Debbe Dunning's daughter Spencer was diagnosed positive with the coronavirus back in July. She spent two weeks in isolation while her boyfriend Kevin cooked, cleaned, and brought her medicine and everything else she needed. Kevin took his time off from the job and stayed inside a tent for two weeks. Fortunately, she fought back and won over the virus.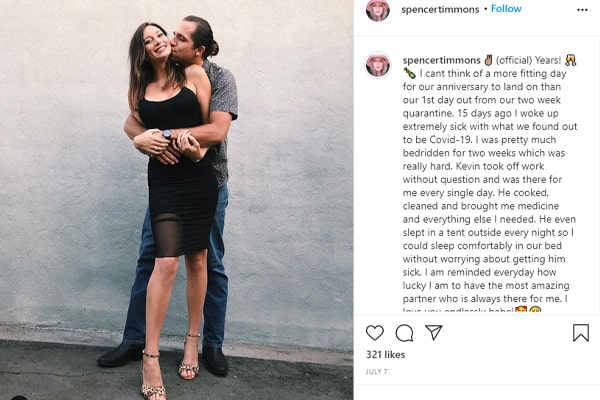 Spencer sure was lucky to have Kevin around, who helped her a lot to get through that dire situation. Spencer seems to have a bright and prosperous road ahead in whichever path she chooses, so we are up for a treat in the next few years.
Explore more on eCelebrityBabies and get updates on Celebrity Babies, Celebrity Parents, Celebrity Siblings, and More.