Debbe Dunning is a famous American actress known for her performance on Leprechaun 4: In Space, Home Improvement, and ABC TGIF. She is also a former model, host, spokesperson, and comedian. Currently, Dunning is busy preparing for the third season of her show Debbe Dunning's Dude Ranch Roundup.
The beautiful and lively TV host, Debbe Dunning, was married to former American Volleyball player Steve Timmons from 1997 to 2018. During their two-decades-long relationship as a husband and wife, they gave birth to three kids, Spencer Schae Timmons, Stoney Timmons, and Sysco Timmons. Here, we will be tailing some unknown facts on Debbe Dunning's son, Sysco Timmons. So, we hope you are ready to know them all.
Youngest Of Three Timmons Siblings
Sysco Timmons is the youngest member of the Timmons family. Debbe Dunning and her former husband Steve Timmons welcomed him on 12 October 2008. The Timmons family celebrated Sysco Timmons' twelfth birthday recently amidst the novel coronavirus pandemic. Sysco's close friends and all of his family members were present at his birthday party. The proud momma, Debbe, had shared some clips of her son's birthday party via her Instagram page.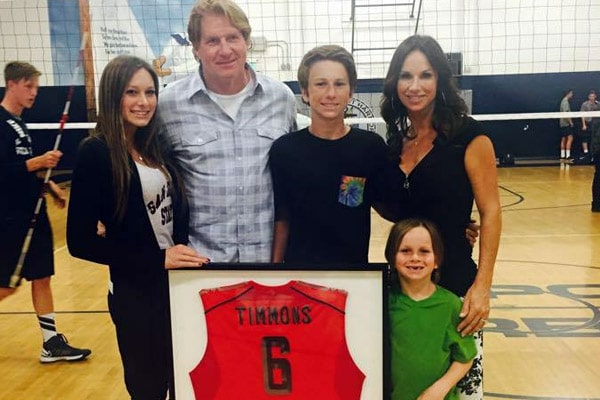 Sysco has an elder brother named Stoney Timmons and a sister, Spencer Schae Timmons. His big brother, Stoney, arrived eight years before his birth in 2000 while the eldest child of Debbe Dunning and Steve Timmons, Spencer, was born in 1996 before their parents' marriage.
All the Timmons siblings, Sysco, Stoney, and Spencer Timmons, are active on the Instagram page. So, we can often see the love and care filled siblings-bond on their respective gram as well as their mom's Instagram. They never miss out on traveling around different places and have fun at home together during their holidays. Sysco and his siblings do not seem to be just brothers and sisters; they seem each other's best friends too.
Is A Keen Skater
Sysco Timmons' father, Steve Timmons, was once a very energetic volleyball player. Although Steve might not have the same energy today, his son Sysco has inherited the same strength and passion for sports. Sysco Timmons' Instagram is filled with his videos of skateboarding. Moreover, he has even created a separate Instagram account named sysco_skates recently to post his skateboarding videos.
View this post on Instagram

Seeing Sysco's dedication and commitment to skateboarding, it seems like he has made his mind to be a successful and famous skateboarder one day. The twelve years old son of Debbe Dunning, Sysco began skateboarding at an early age of six. Now, coming to 2020, he has progressed a lot in it, and his parents plus siblings have full support for him.
Apart from Skateboarding, Debbe Dunning's son, Sysco Timmons, loves cats. He has posted a couple of photos and videos of his cats on his social media pages. Sad to say, his cat died recently in October of this year. For now, Sysco is fully focused on practicing different tricks and techniques of skateboarding, and he shares his progress through his Insta pages.
An Emerging YouTuber
Debbe Dunning and her ex-husband, Steve Timmons, are undoubtedly proud parents. And they have reasons for it as their son Sysco has pre-planned about what he wishes to be in his future and working so hard for it at such a young age. Debbe Dunning's son, Sysco Timmons, does not just spend his entire time skateboarding and uploading his videos on his gram, he is a YouTuber as well.

Sysco practices his skateboarding most of the time, edits all the videos of it all on his own, and uploads it on his YouTube Channel 'Sysco Skates'. Though Sysco has not uploaded videos for quite a while now, we hope to see some more of his vlogs on his YouTube channel soon.
Featured In His Mother's Show
Sysco Timmons' mother, Debbe Dunning, began her own show named 'Debbe Dunning's Dude Ranch Roundup' show in 2017 and running it to date. She travels around the country, goes on adventures, and features the best dude ranches. During various episodes of the show from 2017 to 2018, Sysco also got a chance to appear alongside his siblings.
Sysco appeared in four episodes of his mom's show in total, including Red Rock Ranch and Sixty Three Ranch in 2018 and Nine Quarter Circle and Mawley Mountain in 2017. Indeed, he got to experience many adventures and learn about different places during his appearance in his mother's show.
So, Debbe Dunning's son with Steve Timmons, Sysco Timmons, has inherited both of his parents' traits. However, seeing Sysco's inclination towards skateboarding, it seems like he might choose sports rather than the film industry as his career. We wish him all the best for whichever career he will choose in the future.
Explore more on eCelebrityBabies and get updates on Celebrity Babies, Celebrity Parents, Celebrity Siblings, and More.