Late Kevin Smith was one of the thriving New Zealand-born musicians and actors. He performed in various hit movies and TV series like Hercules: The Legendary Journeys, Young Hercules, and Xena: Warrior Princess. Sadly, he passed away in an accident during his visit to Beijing on 15 February 2002, leaving behind his wife, Suzanne Smith, and three sons, Oscar Smith, Tyrone Smith, and Willard Smith.
It has been eighteen years since the former lead singer of the celebrity band 'The Wide Lapels' Kevin Smith left this world. All of Kevin Smith's sons are grown up now and doing great in their individual careers. In this article, we have collected some unknown facts about all three sons of late Kevin Smith. So, get ready to know all the updates of them.
Late Kevin Smith's Sons Chose Different Career Paths
Aforementioned, late actor Kevin Smith left behind three sons, Oscar, Tyrone, and Willard Smith. Among the three kids of Kevin Smith, Oscar Smith is the eldest one born in 1991. Similarly, his second son, Tyrone Smith, joined the Smith family in 1993, and the youngest, Willard Smith, arrived in 1999.
Unlike most celebrity kids, Kevin Smith's children have chosen different career paths for themselves. The eldest of the Smith siblings, Oscar Smith, decided to be in the field of fitness and health. Currently, he is a fitness trainer at 9Round Ellerslie, a specialized fitness center and health club located at Ellerslie, Auckland. According to the Facebook page of Oscar, he joined the center on 10 November 2018 and is continuing his work there to date.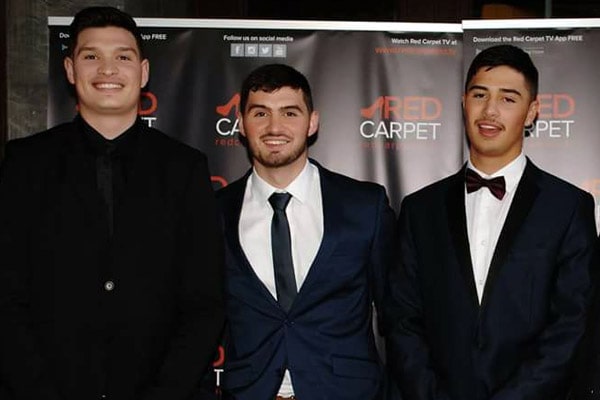 Similarly, the second-born of Kevin Smith, Tyrone Smith, seems to have chosen the hospitality industry. At the moment, he works at Cafe Express based in Palmerston North, New Zealand. Going through the Facebook page of Tyrone, it looks like he is also a basketball player. So, he might be flourishing his career in basketball as well, along with continuing his work in Cafe Express as his side job.
Furthermore, the youngest son of Kevin Smith, Willard Smith, also does not seem to be following his father's footsteps in the New Zealand film industry. Instead, he decided to be in sports. The graduate of St. Peter College, Auckland, Willard, is a basketball player. He is one of the active players of the Basketball New Zealand team. Besides being a keen basketball player, Willard seems to have a passion for singing too.
Kevin Smith's sons are in different fields and finding success in what they are doing as well. Although they did not choose to be in the film industry like their famous dad, they indeed are making him proud.
Love Life Of Kevin Smith's Sons
All the three kids of Kevin Smith are in their adulthood in the present. Two of Kevin Smith's children are even already in a romantic relationship with their respective sweethearts.
Oscar Smith is in a relationship with Cindy Lewis since August 2020. Seeing Oscar's public posts, it seems like he was in one more relationship with a girl named Laura in the past. But, currently, he looks committed to his present girlfriend or probably his future-wife, Cindy Lewis. The beautiful couple often shares their photos on their respective social media handles.
Like Oscar, his younger brother, Tyrone Smith, is in love with a gorgeous lady named Tayla Jones. The pair are dating each other since the beginning of 2018, and their love is blooming more with each passing day. Both Tyrone and Tayla often flaunt their love for one another via their social media pages.
Talking about Kevin Smith's youngest boy, Willard Smith, he is possibly single at the moment.
All Of Kevin Smith's Children Share A Great Bonding
Kevin Smith's all three boys have grown up now and are busy with their own professions. However, their brotherly love for each other is still strong and healthy. They always manage their time from their busy schedule to show their care and attention to one another.
The Smith brothers, Oscar, Tyrone, and Willard, post pictures of their frequent meetings and enjoying their time together on their Facebook and Instagram. Moreover, they also never miss out to show their love to their mom, Suzanne Smith. The whole family of late actor, Kevin Smith, are enjoying their togetherness and are always there for each other in every ebb and flow in their life. However, they also miss the absence of their father, Kevin Smith.
Explore more on eCelebrityBabies and get updates on Celebrity Babies, Celebrity Parents, Celebrity Siblings, and More.