Luke Walton is an American professional basketball coach who is currently the head coach of NBA team Sacramento Kings. Luke followed in his father Bill Walton's footsteps into basketball and was a player himself, winning two titles with LA Lakers. Moreover, Luke has been doing pretty great as a coach, and his father, Bill, can not be more proud.
Luke is now a father himself and knows very well that the children look up to him. Luke is married to his wife, Bre Ladd. The two dated for a long time before tying the knot in 2013. The couple is now parents to two wonderful sons, so let's go through some interesting facts about Luke Walton's children.
Only One Of Luke Walton's Children's Name Has Been Revealed
Luke and his wife Bre Ladd remain quite secretive about their personal life. Having grown up as a child of a celebrated star, Luke is well aware of the bad consequences that come from the limelight. Luke and Bre married in 2013 after dating almost a decade and the couple is parents to two sons. As of now the name of Luke's eldest son has been revealed as Lawson Walton born in 2014. His second son born in 2016 remains hidden from the media.
Most sources claim that Luke has two sons and his second son's name has not been revealed yet. However, according to the NBA, Luke has a daughter instead whose name is Landen Walton. There is a lot of confusion going on here, so unless Luke comes out and reveals both name and gender of his second child we can not be sure.
Luke Walton's Sons Are Going To Be Tall
Both Luke and his wife Bre are giants on their own. Luke stands at 6'8″ while Bre is 6'1″. From the couple's massive height one thing his hypothetically true that both of their children are bound to become tall. While Luke's eldest just turned six this year there's a lot of time for him to grow as tall as he can get. Science says one's children at least reach the average height calculated from both of the parents' height, so we can safely say Luke Walton's children are going to be at least 6'4″.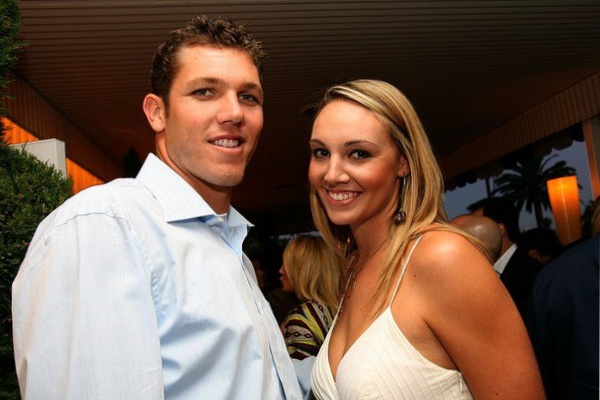 But there are various factors that can either increase or decrease one's height, so nothing is truly guaranteed. As both of the children are still too young we have to wait and see how tall they grow up. We may even see them following the footsteps of their father and grandfather into basketball and continue the legacy of the Walton family.
ALSO READ: Facts About Jeff Van Gundy's Daughter Grayson Van Gundy 
Their Mother Was An Athlete Too
Luke Walton's wife Bre Ladd was also an athlete back in the days. Lawson Walton's mother Ladd was simply a volleyball star during her high school and set various records. She even went on to win the 2001 Gatorade National High School Volleyball Player of the Year. Bre continued her volleyball in college and set records of averaged 2.5 kills and 0.98 blocks per game.
Bre met her future husband Luke at the University of Arizona in 2002. While she was a volleyball player, Luke had his hands-on basketball. Well, after college, Ladd stepped away for an unknown reason. Her educational interest was in public and community health, which may have made her chose one out of the two.
Name Meaning Of Luke Walton's Children
Lawson is a name of English origin meaning 'Son Of Lawrence.' Landen is also a name of English origin which means 'From The Long Hill.'
Explore more on eCelebrityBabies and get updates on Celebrity Babies, Celebrity Parents, Celebrity Siblings, and More.