Chris Diamantopoulos is a Greek-Canadian actor best-known for his performance in various blockbuster TV series and films, including Silicon Valley, The Three Stooges, and Good Girls Revolt. Also, he is the voice actor of Green Arrow's role in the Batman Unlimited series of shorts and films. Currently, Diamantopoulos is busy with his roles in various movies including The Wonderful World Of Mickey Mouse and Invincible.
The Greek descent Chris Diamantopoulos is in a marital relationship with the American actress Becki Newton since 12 May 2005. Together, they have three children. Here, in this article, meet all of Chris Diamantopoulos's children with his long-time wife, Becki Newton.
Chris Diamantopoulos' Three Kids With Wife Becki Newton
As mentioned earlier, the famous entertainment personalities Chris Diamantopoulos and Becki Newton are proud parents to three adorable kids. Their first child is a son who arrived in their family in early November of 2010 in Los Angeles, California. However, the extremely secretive parents, Chris and Becki, have not revealed their son's name to date.
Furthermore, the beautiful couple, Chris Diamantopoulos and Becki Newton welcomed their second child, a daughter, at the beginning of 2014. Unfortunately, Chris Diamantopoulos' daughter's name with Becki Newton is also not available for the public yet.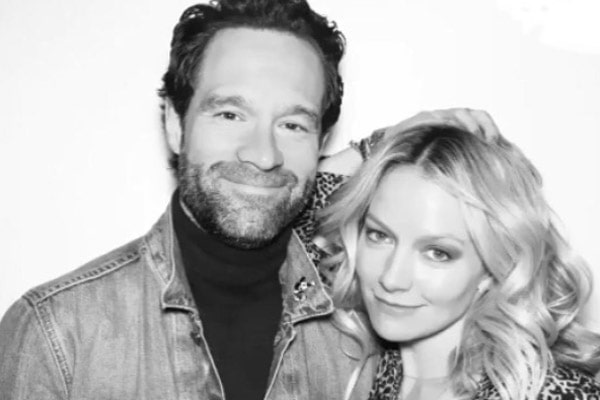 Similarly, Chris and Becki's third child is also a daughter whom they gave birth to in early 2020 amidst the Covid-19 pandemic. The overwhelmed mother and Chris's wife, Becki Newton, had announced the news of their baby girl's birth via her Instagram page. On 15 April 2020, Chris Diamantopoulos' wife, Becki, went live with her co-star and friend, Michael Urie, on Instagram and shared the news of their little girl's arrival.
Like the first two children, Chris and Becki are quiet about their newest born daughter's name. However, they shared a glimpse of their third child on 21 March 2020 with a photo of her hands through Becki's gram.
They Often Visit Their Parent's Film Set
Chris Diamantopoulos' children often visit their celebrity parent's film set. Although Chris and his wife, Becki, always make sure to keep their children away from the media reach, they frequently talk about them during their interviews.
In February 2018, Becki Newton revealed some incidents that took place while she and her husband, Chris, took their kids to a Broadway show and other shows. As told by Becki on Live with Kelly and Ryan show– some years before, Chris Diamantopoulos' children, then three and six, went to Broadway to see him with their mom, Becki.
During Chris' Broadway show, then three-year-old Chris Diamantopoulos' daughter childishly raised her hand shouting 'Hi dad, it's me, Daphne, ' bringing a pin-drop silence for some seconds. It was really a painful moment for Chris and Becki. However, it proved to be beneficial for the public as, after the incident, they got to know Chris Diamantopoulos' daughter's name. But, it might be her nickname as there is no proof if it is her official name or not.
It is not the only and last broadway show attended by Chris and Becki Newton's children. After that also, they attended another show, and Daphne struck again. And since then, Chris and Becki think a lot before taking their kids to any broadway show. However, they still carry them onset, making sure to hide them from the media's prying eyes.
Life Away From The Media Paparazzi
Chris Diamantopoulos' children rarely show off in public with their celebrity parents. Moreover, their parents, Chris and Becki, never share their pictures on their respective social media handles. It seems like they want their kids to stay away from the media attention till they can decide if they desire to be in the spotlight or not on their own.
ALSO READ: Teddy Bradley And Harry Bradley, Sons Of Lindsey Broad With Sean Bradley
For now, Chris Diamantopoulos' son and daughters are living a peaceful and happy life away from the unnecessary media dramas. We hope to see Chris' children soon in the limelight, shining out just like their famous parents.
Explore more on eCelebrityBabies and get updates on Celebrity Babies, Celebrity Parents, Celebrity Siblings, and More.