The novel coronavirus pandemic is undoubtedly affecting the lives of millions around the globe. Amidst the corona crisis, there are still some celebrity families that are growing. Renowned personalities like Emily Maynard Johnson and Pauline Anne gave birth to their juniors in the middle of the pandemic.
Not only Johnson and Anne, but some more celebrities became parents in these trying times. Here, get to know some of the famous stars who gave birth at the time of the pandemic. 
Nicki Minaj & Kenneth 'Zoo' Petty
The rapper Nicki Minaj and her husband, Kenneth 'Zoo' Petty, are proud parents who gave birth during the pandemic. The happily married pair welcomed their first child together, a baby boy, on 30 September 2020 in Los Angeles.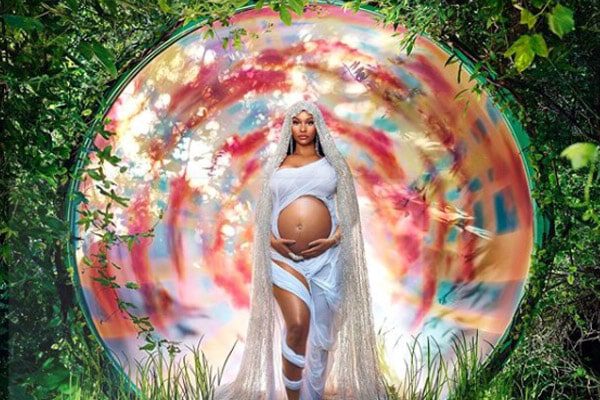 According to sources, Nicki announced her pregnancy back in July, sharing a series of photos showing her baby bump, captioning #Preggers. Minaj did the photoshoot with the famous photographer David LaChappelle.
After Nicki Minaj's son's arrival, the proud momma shared the sweet congratulatory messages from some of her celebrity friends.
Emily Maynard And Tyler Johnson
The Bachelorette alum, Emily Maynard, gave birth to a baby girl on 17 October 2020, Saturday, weighing 6lbs 11oz. She welcomed her daughter just a day after she announced the public about her pregnancy.
The delighted parents, Maynard, and Tyler Johnson shared a video of the arrival of their little one on their respective Instagram pages. Maynard posted a video showing her in the hospital as she prepared to give birth. The proud dad, Johnson shared a video of him and his wife arriving at the hospital and during the arrival of the little girl.
View this post on Instagram

Emily Maynard has one daughter from her previous relationship and three more sons with husband Tyler Johnson.
Matt Altman and Johanna Altman
The Million Dollar Listing Los Angeles actor Matt Altman and his wife Johanna Altman welcomed their third kid together on 12 October 2020. Matt shared a snapshot of his newborn, Hudson Altman, on his Instagram, captioning the baby's name.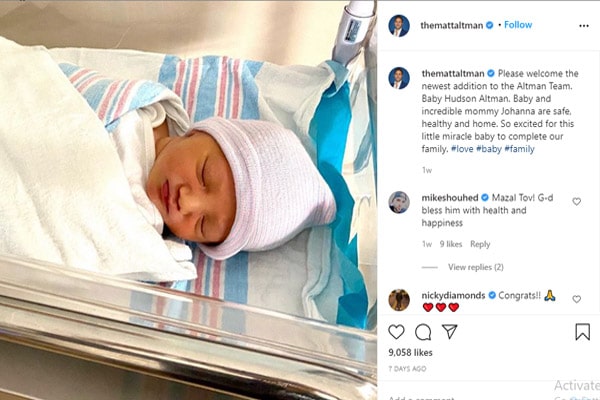 The married pair, Matt and Johanna, told The People magazine in May that their baby was due in October. Moreover, they had shared an announcement photo on their gram. Baby Hudson joined the Altman couple's twins, daughter London Altman and son Ashton Altman. 
Lucky Blue Smith and Nara Pellman
The American model, actor, and musician, Lucky Blue Smith, notified his fans of his first child's arrival with his wife, Nara Pellman, via his Instagram on 9 October. The couple's daughter, Rumble Honey Smith, made Smith and Pellman proud parents together for the first time on 7 October 2020.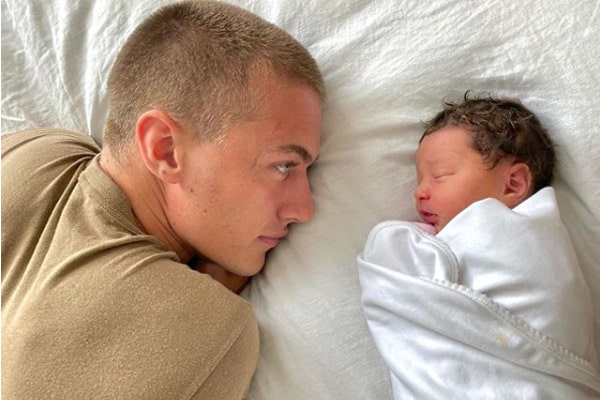 The overwhelmed daddy, Lucky Blue Smith, shared an adorable photo of him looking at his baby girl sleeping on his gram, announcing her birth. He captioned the picture with his special little princess' name.
 Lucky Blue Smith is also father to daughter Gravity Smith, whom he had with his ex-girlfriend Stormi Bree.
Jessica Graf And Cody Nickson
The Big Brother stars Jessica Graf, and Cody Nickson became parents for the second time with the arrival of their daughter, Carter York Nickson, on 5 October 2020. Carter made her debut at 11:23 p.m., measuring 19.5 inches and weighing 7 lbs 2oz.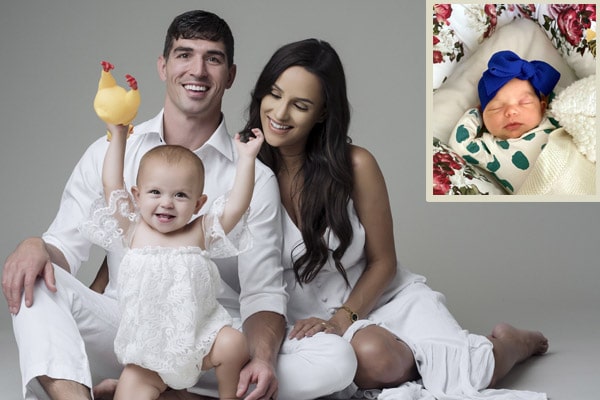 The blessed mom and dad, Graf and Nickson, shared a snapshot of their little princess announcing their little girl's birth. The couple posted Carter's photo on her own Instagram account, which they created long before her birth.
The husband-wife duo, Jessica and Cody, already are parents to daughter Maverick Nickson. Also, Cody is a father to a daughter, Paisley Nickson, from his former relationship.
Boris Johnson And Carrie Symonds
Here comes another celebrity baby, Little Boris wrapping 2020 around his little fingers. Boris Johnson and his fiancee Carrie Symonds gave birth to their first child together, Wilfred Lawrie Nicholas Johnson, on 29 April 2020. A spokesman for the UK Prime Minister, Boris Johnson, confirmed the birth of the baby boy.

The news of the arrival of junior Boris came a few weeks after Johnson was discharged from hospital after recovering from Covid-19. According to Carrie Symonds, Wilfred's middle name 'Nicholas' was in honor of the two doctors, Dr. Nick Price and Dr. Nick Hart, who saved her partner, Boris's life in May 2020.
Wilfred is the first child of Carrie Symonds, while Boris Johnson is already father to five kids from former relationships.
Elon Musk And Grimes
The Tesla CEO, Elon Musk, and his girlfriend, Grimes, welcomed their first baby together, a cute boy, on 4 May 2020. Musk confirmed the exciting news of the latest addition to his family in a Tweet. He shared it when one of his fans asked for an update on the baby after tweeting that his girlfriend was due on Monday.
When asked the newborn's name, Musk tweeted it's X Æ A-12 Musk, which is pronounced as X-Ash-A-12. Elon Musk's girlfriend, Grimes, later tweeted the meaning of their baby boy. Musk also has five sons from his former wife.
•X, the unknown variable ⚔️
•Æ, my elven spelling of Ai (love &/or Artificial intelligence)
•A-12 = precursor to SR-17 (our favorite aircraft). No weapons, no defenses, just speed. Great in battle, but non-violent 🤍
+
(A=Archangel, my favorite song)
(⚔️🐁 metal rat)

— ☘︎𝔊𝔯𝔦𝔪𝔢𝔰࿎ (@Grimezsz) May 6, 2020

Well, these are the top seven celebrities who gave birth amidst the pandemic. Besides, other stars, including Chloë Sevigny, Rooney Mara, Amanda Seyfried, Meghan McCain, and many more, welcomed their offspring in the Covid-19 crisis.
Congratulations to all of them! We hope their littles ones will outshine them in the limelight just when they all grow up.
Explore more on eCelebrityBabies and get updates on Celebrity Babies, Celebrity Parents, Celebrity Siblings, and More.