Alexandra Osteen is the daughter of Joel Osteen and Victoria Osteen. Unlike other celebrities, Alexandra's dad and mom are not related to the film industry or some other professions like that. They are the famous preachers of God in the United States. Joel Osteen is one of the most loved pastors of America. Besides, he is a televangelist and an author of several books related to God. Similarly, Victoria Osteen is also an American author and co-pastor of the Lakewood Church founded by her father-in-law and Joel Osteen's father, John Osteen.
Alexandra has been an integral part of her parents' journey in the course of sharing God's words. So, lately, she also has been a part of media scrutiny. Hence, let's know some quick facts about Joel Osteen's daughter with Victoria Osteen, Alexandra Osteen.
Youngest Child Of Joel Osteen And Victoria Osteen
Alexandra Osteen is the youngest child and the only daughter of Joel Osteen and Victoria Osteen. The Osteen couple gave birth to the youngest member of their family, Alexandra Osteen, on 9 November 1998. Alexandra was just two months old when her grandfather, John Osteen, passed away, and her father, Joel, began leading his congregation with the help of other family members.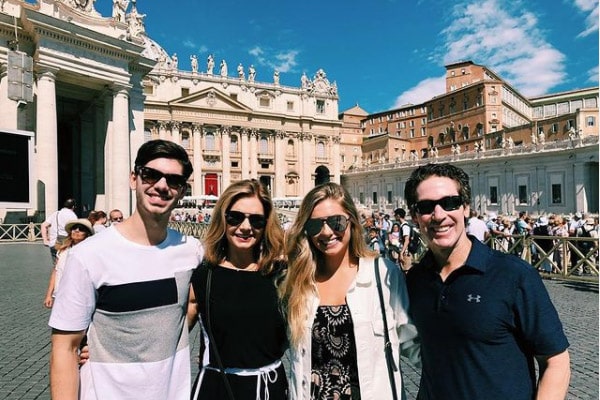 Alexandra Osteen has an elder brother named Jonathan Osteen, three years older than her. Like her brother, Jonathan, Alexandra also graduated from the University of Texas. She bagged her degree from UT recently in May 2020. The proud dad, Joel, had shared a photo of Alexandra, radiating with positive energy as she struck a pose with her graduation hat.
Growing up, Joel Osteen's daughter, Alexandra Osteen, did not have many friends. She used to stay in her home like an introvert. However, in an interview, Victoria Osteen's daughter Alexandra revealed that after graduating from UT, she learned the importance of friends. She learned that friends make you feel that you are not alone, and they teach you about yourself and to be the person you want to be. Now, she loves to spend quality time with her friends and family too.
An Emerging Singer And Band Member Of LYA
Joel Osteen's daughter, Alexandra Osteen, has been surrounded by God's work since her early childhood. She grew up with her brother, Jonathan, in the Lakewood Church's ministry. As Alexandra grew, she regularly became an integral part of God's services, singing for the congregation. Since then, Alexandra began performing in the Lakewood television series.
Furthermore, Victoria Osteen's daughter Alexandra Osteen is also a member of the Lakewood Church's band LYA, where her brother is the lead vocalist. The LYA band consists of four members, Alexandra, her brother, Jonathan, Abel Orta, and Louie Garcia. Alexandra's band creates diverse music that mainly appeals to the young generation. Some of Alexandra and her band members' songs include Horizon, Live In The Wonderful, Let It Be Known, and many more songs that are hit with their fans.
An Instagram Star
Joel Osteen's beautiful girl, Alexandra Osteen, is a social media star, mainly an Instagram star. As of December 2020, Alexandra's Instagram page has over 51K followers with more than 3k likes in each post.
View this post on Instagram

Alexandra Osteen usually shares pictures of enjoying her life with her friends and family traveling several places, and attending various functions. Going through Alexandra's Instagram page, she seems to be a fun-loving and charming girl who is enjoying every moment of her life.
She Wishes She Could Talk To Animals
On 15 September 2020, Alexandra Osteen joined Pastor Nick Nilson to chat through what it means to be a young adult in 2020. During their talk, Pastor Nick asked Alexandra three questions, and the first question was what she would choose between knowing every language on earth and being able to talk to animals.
At first, Alexandra told Nick that she would want to know both. However, between knowing every language and being able to talk to animals, she chose the second one. Alexandra has two dogs at her home named Evy and Reny, and she wishes she could talk to them. She wants to chat with them all day long. That does not mean Alexandra does not want to learn all the languages. She also wishes to know all the languages so that she can be the smartest in the world.
Alexandra Osteen's Love Life
Many fans of Alexandra Osteen and her family might be wondering if she is already in a romantic relationship or still single. Well, the good news is that the 22-years old daughter of Joel Osteen, Alxendra is currently single. Moreover, there are no rumors of this gorgeous young lady dating anyone in the past.
ALSO READ: Xander Buckley, Son Of Andy Buckley and Nancy Banks
Joel Osteen's daughter is still young, and probably, her main focus might be on her studies and career-building rather than spending time on relationships. She is enjoying her single life, hanging out with her friends and family. For now, her best dating partners are her parents and brother.
Name Meaning: Alexandra Osteen
The Greek origin female name Alexandra means defender of humankind.
Explore more on eCelebrityBabies and get updates on Celebrity Babies, Celebrity Parents, Celebrity Siblings, and More.