You are not a cinephile if you have not heard the name Robert Zemeckis. Robert Zemeckis (Robert Lee Zemeckis), a big name in the American film industry, is an American film director, screenwriter, and producer. Zemeckis is known to be great for being the pioneer of visual effects in the entertainment industry. Some of the films that Zemeckis worked in are Romancing the Stone, Back to the Future trilogy; these films brought him huge media attention and success. After that, he demonstrated his excellent direction skills in movies like Who Framed Roger Rabbit, Death Becomes Her. Despite these great movies, his great work is considered to be Forrest Gump, which got him Academy Award for Best Director. The movie starring Tom Hanks, Forrest Gump also won the Academy Award for Best Picture. You might already know all these things, so now let's take a ride along another side of his life.
Unlike his career, his first marriage to Marry Ellen Trainor did not turn out to be successful. After splitting up with Marry, he married writer cum actress Leslie Zemeckis (Elizabeth Harter). Although these facts are known to the public, Zemeckis excels in keeping things private- especially his children. You might want to find out how many children director Robert Zemeckis has. Read this article to find out the answer and know more about Zemeckis's children.
Director Robert Zemeckis Is A Father Of Four
The Forrest Gump director, Robert Zemeckis, is a father of four. As aforementioned, he has been married twice and has children from both the marriage. Though his first marriage was a failure, he has now realized where he made mistakes and has been trying to become more of a family man. Today, he is a proud father of four and likes to keep his children away from the radar.
You, as his fans, might be curious to know about their life, so we've accumulated information about them and prepared this article. Continue reading to know more about Robert Zemeckis's children.
Alexander Zemeckis Is The First Child Of Robert Zemeckis
Robert Zemeckis married his first wife, Mary Ellen Trainor, in 1980. The (then) couple welcomed their first child on the 11th of December, 1985, after five years of their marriage. Zemeckis and Mary were delighted to welcome their first child and their first parenthood experience, and they decided to name him Alexander Francis Zemeckis.
Zemeckis's first child, Alexander, is an aspiring actor who debuted in this industry through the movie directed by his father, Forrest Gump. After that, he has also worked in other movies and projects such as Contact and Rabbit Fever. His IMDb profile says that he was in the additional crew of movies Beowulf and The Polar Express. Alexander's last appearance in the industry was in 2007; after that, there is no sign of him in Hollywood. He lost his mother to pancreatic cancer in 2015.
Also Read: Get To know Adam Scott's Parents, Douglas Scott And Anne Scoot 
Robert Zemeckis's Children From His Second Marriage
As aforementioned, Robert Zemeckis married Leslie Zemeckis after his separation from his first wife. Zemeckis and Leslie shared their marital vows on December 4, 2001. As of now, the couple has completed 19 years of happily married life and are parents to three kids- two sons and a daughter.
Rhys Zemeckis : Eldest Son Of Robert Zemeckis With Leslie Zemeckis
In 2003, after three years of marriage, Robert Zemeckis and his current wife Leslie Zemeckis welcomed their first child, Rhys Zemeckis, into this world. The couple was more than happy to hold their first child together in their hands. It surely was heavenly as they were experiencing their first parenthood together.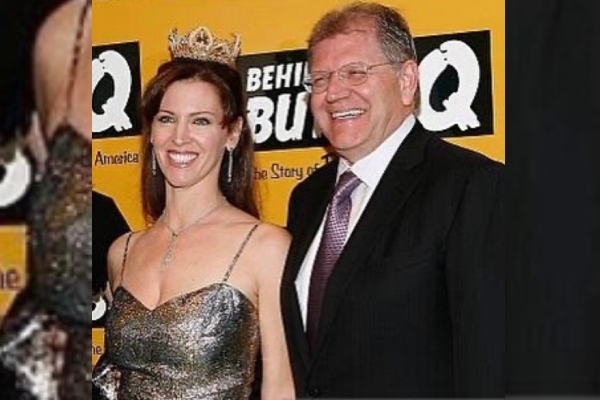 Robert Zemeckis does not want his son Rhys to suffer from media scrutiny, i.e., why he likes to keep him away from the eyes of the media. Rhys also has two siblings- a younger brother and a younger sister.
Zane Zemeckis: Second Child Of Robert Zemeckis With Leslie Zemeckis
Zane Zemeckis is the second child of Robert Zemeckis with his second wife, Leslie Zemeckis. The couple gave birth to Zane in 2005, after two years of birth of their first son Rhys. Like Rhys, not much is know about Zane too. At present, Zane is enjoying his teenage life and is far away from the reach of media. Now let's talk about the youngest member of his family.
Zsa Zsa Rose Zemeckis: The Only Daughter Of Robert Zemeckis
Zsa Zsa Rose Zemeckis is the youngest daughter of Robert Zemeckis and Leslie Zemeckis. The celebrity couple welcomed their youngest child Zsa Zsa Rose in July 2007. Her parents gave her a unique name Zsa Zsa which is derived from her mom's original name Elizabeth. Zsa Zsa, being the youngest member of the family, is certain to receive special care and treatment from her parents and elder brothers.
The celebrity couple does not want too much media attention and wants their children to live a normal childhood. Well, not so normal when their parents have a net worth of more than $60 million.
Name Meaning: Alexander Francis Zemeckis
'Alexander' is a masculine name of Greek origin. It means 'Defender'. The middle name 'Francis' originated from the Greek language and means 'Free.'
Name Meaning: Rhys Zemeckis
'Rhys' is a name that originated from Welsh, and it means 'Enthusiasm.'
Name Meaning: Zane Zemeckis
The name 'Zane' is an English version of the name John, which is of Hebrew origin. The meaning of 'Zane' is 'God is Gracious.'
Name Meaning: Zsa Zsa Rose Zemeckis
The name 'Zsa Zsa' is a girl name of Hungarian origin meaning 'God's Promise.' The middle name 'Rose' originates from Latin and means 'Rose, a flower.'
Explore more on eCelebrityBabies and get updates on Celebrity Babies, Celebrity Parents, Celebrity Siblings, and More.