Kristyn McHale is the daughter of Kevin McHale, a Hall of Fame Player for the Boston Celtics. Kristyn's father Kevin McHale is considered one of the most significant power forwards of all time. Following the end of the NBA playing career, Kevin McHale began his career as a television analyst from the Minnesota Timberwolves. During his tenure in Minnesota Timberwolves, McHale also served as general manager and head basketball coach. Kevin McHale is currently an on-air analyst for NBA TV and Turner's Sports' famous NBA on TNT studio show.
The seven times NBA All-Star, Kevin McHale is in a marital relationship with Lynn McHale since 30 June 1982. The married couple, Kevin and Lynn, are parents to grown-up kids, one daughter, Kristyn McHale, and three sons. In this article, get familiar with some facts about Kevin McHale's daughter, Kristyn McHale.
Daughter Of Kevin McHale With Lynn McHale
Kristyn McHale was born to the famous sports personality Kevin McHale and his long-time wife, Lynn McHale, in 1983. Her father, Kevin McHale, had just signed to the Boston Celtics as a player at the time she arrived in the McHale Family. Kristyn McHale's parents raised her in Weston, Massachusetts, where she attended the Red Barn Pre-school.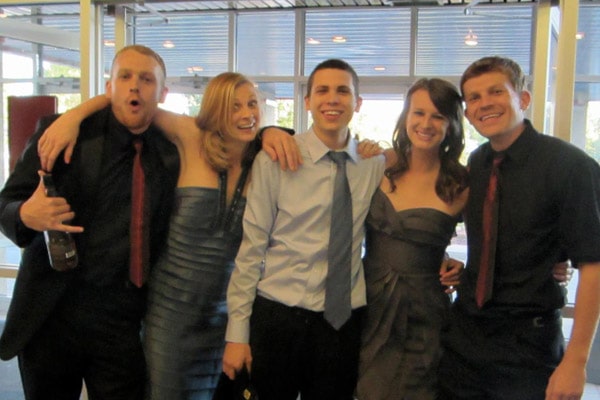 Currently, 37-years old daughter of Kevin McHale, Kristyn McHale has three brothers, Thomas McHale, Michael McHale, and Joseph McHale. All the three siblings of Kristyn McHale share a strong bonding with her. Although all the four McHale siblings are grown up and live separately, they meet each other occasionally during various events.
Her Younger Sister Died In 2012 From Lupus
Besides three brothers, Kristyn McHale had a younger sister named Alexandra 'Sasha' McHale. Kevin McHale's daughter and Kristyn McHale's sister, Alexandra, was an outstanding young woman. She was a basketball player who wore No.32 while playing high school basketball.
ALSO READ: Facts About Jerry Sloan's Daughter Kathy Sloan Wood
Unfortunately, Kristyn McHale lost her small sister on 24 November 2012. Alexandra was just 23-years old when she passed away from the complications caused by Lupus, an auto-immune disease. Even though Kristyn's sister, Sasha, struggled so much, she always remained positive and maintained a presence on social media handles.
After the untimely demise of Sasha, Kristyn is the only daughter who remained in McHale Family. We hope she is doing her best to fulfill the absence of her beloved sister in her family.
Life Away From The Paparazzi
Like many other celebrity babies, Kevin McHale's daughter, Kristyn McHale, also makes rare appearances in public. She might have attended various games with her celebrity father. However, no one has succeeded in capturing her on their camera yet as she is maintaining extreme privacy in her everyday life. Moreover, her parents are also making sure that they never disclose any details on her concerning her private life.
Furthermore, Kevin McHale's daughter, Kristyn McHale, does not seem to be available on social networking handles. Probably, she might be operating her social sites in a different name. But, it is not known to the public to date. So, for now, Kristyn McHale is living an utter secret life away from media reach, and there are still many more to know about her. We hope we will update them for you soon.
Name Meaning: Kristyn McHale
The girl name Kristyn is of Scandinavian and Latin origin. Its meaning is a follower of Christ.
Explore more on eCelebrityBabies and get updates on Celebrity Babies, Celebrity Parents, Celebrity Siblings, and More.