Larry Bird is an all-time basketball great. Regarded by many to be at the very top along with players like Michael Jordan, Kareem Abdul-Jabbar, and Magic Johnson, Larry made history with Boston Celtics by winning three titles with them. As far as basketball fans are concerned, there are probably a few who have achieved the success Larry achieved in his career.
While Larry's basketball triumphs are known to the public like they are their own life events, many don't know much about his childhood. He was raised in a big family with five siblings, and the one who took care of them was his mother, Georgia Bird. So, without further ado, let's get to know about Larry Bird's mother, who raised a whole army of kids on her own.
Georgia Selflessly Raised Six Children
Larry Bird's mother, Georgia, was a mother of six children with her husband, Joe Bird. While Larry Bird's father was a war veteran who worked mostly on construction, he had difficulty getting jobs. He used to drink a lot, maybe to calm the trauma he experienced during his time in the service. This meant that Georgia was the one who had to handle the primary source of income in the family.
Larry Bird's long list of siblings includes Eddie Bird, Linda Bird Campbell, Jeff Bird, Mike Bird, and Mark Bird. Looking over all these kids while also managing the house must have been a nightmare for Georgia. But somehow, with a fighting spirit and a lady's determination, she managed to do it all. Kudos to Georgia for pulling off the biggest score in her life through sheer determination.
Larry Bird's Mother Worked At A Restaurant
Bird's mother, Georgia, worked as a cook in a restaurant called Flick's for pretty long hours. Georgia was a graduate of French Lick High School and a member of Springs Valley Church of the Nazarene but chose to work at an restaurant. She also had to fill the family's financial gaps by getting to the bank for loans—mostly $50 at a time for grocery money. According to Wayne Ferguson, who worked for the bank,
"She'd come in one week for the money and be back the very next to pay it off, I would've given her the money out of my own pocket if I could've. I'd known her since I was a boy, and she was a wonderful person—solid as a rock."
Raising six children on her own is not a small feat in a time when raising even one meant economically depressing. What Georgia did for her family is beyond applaudable. When Larry came of age, he was expected to contribute, too. He helped in the cafeteria as a fourth-grader. During the seventh grade, he was working 40 hours a week after school at Agan's Market.
ALSO READ: Jason Kidd's Mother Anne Kidd Was A Programmer
Georgia Was A Huge Fan Of Magic Johnson
One of the things Larry is known for is his fierce rivalry with another legend of the game, Magic Johnson. Bird and Magic were like cat and mouse on the court, but at a personal level, things took a different turn. In an Interview, Magic mentioned that Larry Bird's mother, Georgia, was a big fan of his.
The main story comes from the time when Magic was shooting a converse commercial with Larry at his house. It was during lunch that Magic decided to get to his trailer to grab some food. But Larry asked him to stay and eat the lunch prepared by his mother. Larry's mother, Georgia, embraced Magic's presence with a hug. As he entered, she told him that she was a big fan of his. This was a disarming moment for Magic, who never expected this sweet gesture.
Georgia Bird Died Of Lou Gehrig's Disease
After spending all her life devoted to her children, Georgia passed away at the age of 66. She was diagnosed with amyotrophic lateral sclerosis or ALS in 1995, which is commonly known as Lou Gehrig's disease. All of her children had stayed with her prior to her death, but Larry had to leave early due to his training camp.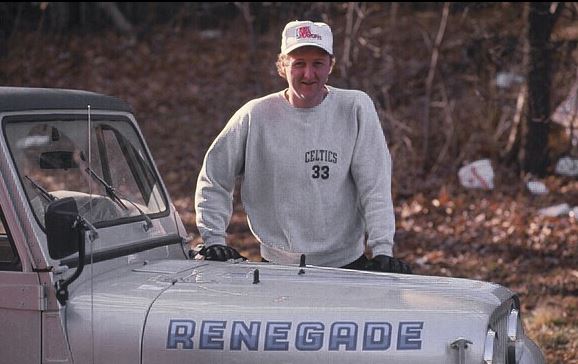 Georgia passed away in her children's arms; the same children whom she nurtured, carried her will and legacy afterward. The deadly disease destroys nerve cells in the brain and spinal cord, and finally, the body gives in. Georgia was buried at Crystal Cemetery, along with the funeral, which took place at Crystal Community Church.
Georgia was succeeded by her children, two brothers- Ed Kerns, and Amon Kerns as well as  four sisters, Mary Lou, Bonnie Johnson, Mildred Warner, and Virginia Smith.
Explore more on eCelebrityBabies and get updates on Celebrity Babies, Celebrity Parents, Celebrity Siblings, and More