Austin Hollins is the son of an American former basketball player, Lionel Hollins, with his wife, Angela Hollins. Lionel Hollins played for the Portland Trail Blazers, earning the 1977 NBA championship and getting the 1978 NBA All-Star title. Also, Hollins was a player for other teams, including the Detroit Pistons and Houston Rockets. Then, he began his coaching career as an assistant coach for Arizona State in 1985. Lately, Hollins is serving as an assistant coach for the Los Angeles Lakers.
The former head coach of the Brooklyn Nets, Lionel Hollins is a father to three sons and a daughter with his wife Angela 'Angie' Hollins. In this article, get to know some fascinating facts about Lionel Hollins' son, Austin Hollins, who is also in the American Sports Industry.
Son Of Lionel Hollins With Angela Hollins
Lionel Hollins and his beloved spouse, Angela Hollins, welcomed their son, Austin Hollins, on 8 November 1991. His father, Lionel, was an assistant coach with the Phoenix Suns at the time of his birth. Austin spent some of his early childhood years in Arizona and later moved to Memphis, Tennessee when he was in sixth grade.
View this post on Instagram

Lionel Hollins' son, Austin Hollins, attended the public school and high school in Tennessee. For his high school education, he joined Germantown High School, from which he graduated in 2010. Then, Hollins enrolled at the University of Minnesota and earned a Bachelors's degree with a major in Business & Marketing Education in 2014.
Furthermore, the talented boy of Lionel Hollins, Austin Hollins, is very good at playing piano by ear. Moreover, he enjoys writing poems in his free time. Austin began writing poems in high school.
An American Basketball Player Like His Dad
Lionel Hollins wanted his son to have his own passion for it. He wanted him to find what he enjoyed doing. His youngest, Austin Hollins, found it in basketball and other sports since his childhood days. While he was still a child, he used to practice basketball in the gym for so long that his father, Lionel, had to force him to stop playing.
Lionel Hollins' son, Austin Hollins, played basketball in his high school under head coach Newton Mealer. His high school performance attracted many college programs, including Georgia, Arizona State, and Minnesota. But, he chose Minnesota for his further education and continue his playing career.
Had a great experience playing summer league #blessed pic.twitter.com/OFEnP09ksq

— Austin Hollins (@aHolli_20) July 22, 2015

In the first year at Minnesota, Austin Hollins played under the head coach Tubby Smith as a guard. After not being able to perform to his best, he had decided to change his college as a freshman, but his dad never let him quit. With the help and constant supervision of his dad, Austin finally realized that surviving his first season in Minnesota helped him persevere through more adversity. During Austin's college career, he broke the record held by Rodney Williams, playing in a school-record 140 games.
Austin Hollins' professional career began playing for the Denain Voltaire. Eventually, he played for Kauhajoen Karhu, Gieben 46ers, and Rasta Vechta, winning various championships and titles. Currently, Austin plays for the Zenit Saint Petersburg of the VTB United League and the EuroLeague.
Owner Of a Lifestyle Apparel Company
Besides being an American professional player, Austin Hollins co-owns a lifestyle apparel company named Menfe Company in Memphis, Tennessee. He and his childhood friend, Asa Tony, founded the company recently in 2020. Their company provides eco-friendly, sustainable clothing at a reasonable price.
ALSO READ: Brian Sloan, Facts About Jerry Sloan's Son With Bobbye Sloan
Though Lionel Hollins's son, Austin Hollins, started a new business this year, his main focus is still on basketball. The basketball fans speculate that with such dedication and hard work in basketball, Austin Hollins might surpass his dad in no time. We wish Austin all the best for his success.
Austin Hollins' Siblings
The youngest boy of Lionel Hollins with Angela Hollins, Austin Hollins, has three older siblings. He has two brothers, Lamont Hollins and Anthony Hollins, and a sister named Jacqueline Hollins-Butts. All the three siblings of Austin Hollins share a great bonding. They are often noticed together at public events and family get-togethers on various occasions.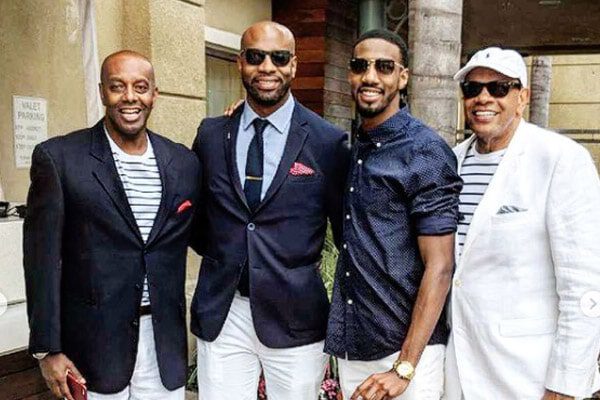 Moreover, many might mistake another American basketball player, Andre Hollins, for Austin Hollins' brother. Despite growing up in Memphis, sharing the same last name, and wearing the same no.20 jerseys in high school, Austin and Andre are not related. However, both Hollins and their families are close to each other and have a good relationship.
Name Meaning: Austin Hollins
The male name Austin is of English origin. Its meaning is great or magnificent.
Explore more on eCelebrityBabies and get updates on Celebrity Babies, Celebrity Parents, Celebrity Siblings, and More.