Victoria Osteen, born Victoria Iloff, is a famous American author and co-pastor of the United States' largest Lakewood Church, Houston, Texas. The books authored by Victoria Osteen include Love Your Life: Living Happy, Healthy, and Whole, Little Simon, and many other children's books. Moreover, she is also popular among people for being Pastor Joel Osteen's wife and mother of his two kids, Alexandra Osteen and Jonathan Osteen.
Victoria Osteen was born to Donald Iloff and Georgine Iloff in Huntsville, Alabama. With the increasing fame of Victoria, many people are eager to know about the ones who gave birth to her. So, here, get to know some facts about Victoria Osteen's parents, including their professional life.
Victoria Osteen's Father Is A Mathematician
Donald Iloff, Victoria Osteen's father, is a mathematician with General Electric Company, Boston. In the past, he used to work at the Marshall Space Flight Center. At Marshall, Donald was a team member of General Electric's Saturn rocket project led by the late Wernher Von Braun, a German-born American aerospace engineer and space architect.
View this post on Instagram

In 1963, Donald Iloff took a position with NASA (National Aeronautics and Space Administration). So, he moved to Houston, Texas with his family and relocated near the Johnson Space Center to continue his work. Along with continuing his work for NASA, Victoria Osteen's father, Donald Iloff, also served as a deacon in the Church of Christ. He and his wife, Georgine, are still involved in the local church and help in the works of the Church's ministry.
Osteen's Mother Was A Teacher At Sunday School
Victoria Osteen's mother, Georgine Iloff, is also active in the Christian faith like her other family members. After the Iloff family moved to Houston from Alabama, Georgine began teaching the Sunday School, where her husband was a deacon. Along with it, she also used to run her jewelry shop where her daughter met her current husband, Joel Osteen.
ALSO READ: James Spader, Father Of Three Kids From Two Different Women
Victoria Osteen's mother, Georgine Iloff, is an extremely secretive person. She does not seem to prefer to talk about her everyday life before the media. So, it is not known if Georgine still teaches in the Sunday School or not. But, what we know is that she is still engaged in her jewelry business. Currently, Georgine Iloff is the President of Iloff's Jewellers, Inc, located in Houston, Texas.
Parents To Two Children Including Victoria Osteen
Victoria Osteen's parents, Donald Iloff and Georgine Iloff, have a son named Donald Iloff Jr., elder than Victoria Iloff. Their son. Donald Jr. currently serves as a Senior Executive of Lakewood Church Ministry and Joel Osteen Ministries. Moreover, the eldest son of Donald and Georgine is also the chief advisor of their daughter, Victoria, and son-in-law, Joel Osteen. Their son, Donald, also helps them in their jewelry business as its vice-president.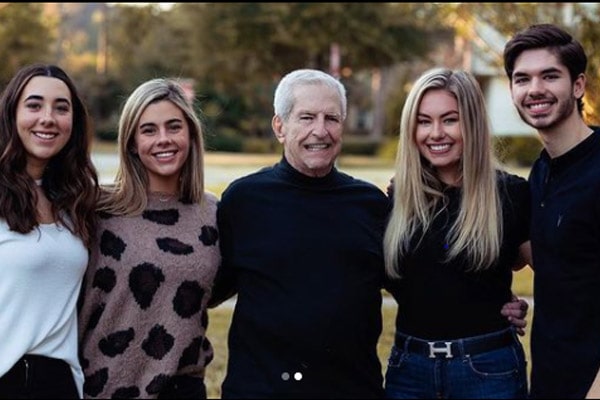 Furthermore, the proud parents of two, Donald and Georgia, are grandparents to four grandkids. They have two granddaughters, Elizabeth Iloff and Cristine Iloff, from their son, Donald Jr.'s marriage with Jackelyn Iloff. Similarly, the Iloff couple, Donald Iloff and Georgine Iloff have one grandson, Jonathan Osteen, and a granddaughter, Alexandra Osteen, from their daughter, Victoria Osteen.
Currently, Victoria Osteen's parents live a peaceful life at their home in Houston, Texas. Their children and grandkids often go to meet them during holidays and special occasions.
Explore more on eCelebrityBabies and get updates on Celebrity Babies, Celebrity Parents, Celebrity Siblings, and More.