Most Vin Diesel fans did not know that he has a twin brother named Paul Vincent when he entered the American Film Industry and gained fame. Fast and Furious star Vin Diesel brought all of his fans surprise when he revealed his twin brother, Paul Vincent, via his Facebook post back in 2014. Now, people are eager to learn more about Vin Diesel's twin brother and if he looks like his brother or not.
Here in this article, we will be unfolding some unrevealed facts on Paul Vincent and his similarity and dissimilarities with his twin sibling, Vin Diesel. So, get ready to get all your queries answered.
Vin Diesel's Twin Brother, Paul Vincent, Looks Nothing Like Him
As the title of this article tells it all. Vin Diesel's twin brother, Paul Vincent, looks nothing like him. Before 2014, people thought that Diesel's twin also looks somehow like him, with bald hair, round face, muscular body, and many more. However, when Vin Diesel shared a photo of his friend, late actor Paul Walker and his brother Paul Vincent on his Facebook wall in 2014, it revealed that his brother is the direct opposite.

By sharing the photo, Vin Diesel made it clear that although Paul Walker looks like the other guy in the photo, the guy is his twin brother. Another thing that is evident from Vin Diesel's post is that his less-known twin, Paul Vincent is hairy and has a beard, unlike him. However, he is a significant hottie just like his celebrity brother, Vin Diesel.
Vin rarely posts pictures of his twin brother on his social networking handles. Moreover, Paul does not have any social media accounts registered to his name, due to which he is often mentioned as a secretive man by the media and public.
Paul Vincent's Professional Life
Vin Diesel is a world popular actor known for his roles in numerous hit action movies leaving the cinematic universe spellbound. Besides gaining fame as an actor, Vin Diesel is also an American singer and musician. Moreover, he is a founder of the production company named One Race Films and a record label, Racetrack Records.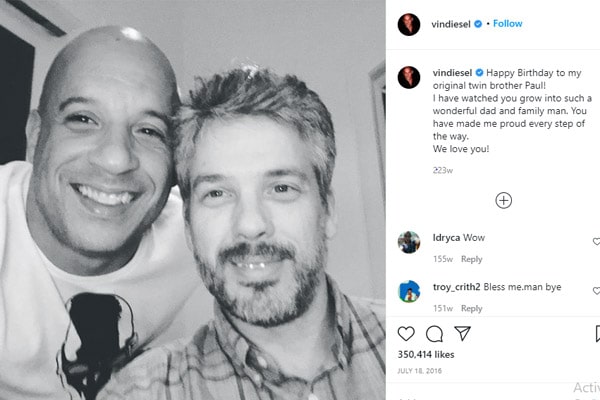 While talking about Vin Diesel's twin brother, Paul Vincent, he is not as popular as Vin. However, according to various sources, he works behind the camera as a sound editor. According to IMDb, Paul Vincent worked in the sound department of the short movie Multi-Facial, starred by Vin Diesel in 1995. He might have served in other films as well in the same post, but it is not known to the public yet.
Twin Brothers Vin Diesel And Paul Vincent Were Raised By Their Step-Father
Paul Vincent and his brother, Vin Diesel, born Mark Sinclair Vincent, was born in Alameda County, California, on 18 July 1967. Their biological father left their mother, Delora Vincent, before their birth. So, their mom raised them as a single mother for some years.
When Vin and Paul were three years old, their mother married former acting instructor Irving H. Vincent. After getting married to Paul and Vin Diesel's mother, Irving H. Vincent adopted them and gave them his last name, Vincent. Since then, both Vincent brothers, Vin and Paul, were raised by their step-father.
Besides Vin and Paul Vincent, Irving has two more children, daughter Samantha Vincent, and son Tim Vincent. Vin Diesel's sister, Samantha, is also in the American Film Industry like her brothers. Samantha is famous for her work in films such as Fast & Furious 6 and Riddick.
Hence, Vin Diesel and Paul Vincent are fraternal twins. Despite the fact that they have many things in common, they are far more different concerning their looks and physique. 
Explore more on eCelebrityBabies and get updates on Celebrity Babies, Celebrity Parents, Celebrity Siblings, and More.