Nick Offerman is a famous American Entertainment personality known for his work in several big hit TV series and films. He is mainly notable for portraying Ron Swanson's role in Parks and Recreation and Frank Fisher in Hearts Beat Loud. One of the most-loved comedians, Nick Offerman, is also a writer popular for three books to date, including Paddle Your Own Canoe, which he released in 2013. He is also a woodworker who runs a wood store named Offerman Woodshop in Los Angeles, California.
Comedian Nick Offerman is the second child of former teacher Ric Offerman and nurse Cathy Roberts. Here, in this article, please get to know more about Nick Offerman's parents, Ric Offerman and Cathy Roberts, including their personal and professional lives.
Nick Offerman's Father, Ric, Was A Social Studies Teacher
The hunky actor, Nick Offerman's father, Ric Offerman, was a social studies teacher in the past. Ric was an eighth-grade social studies teacher at Channahon Junior High School. During his tenure in Channahon Jr. High, Ric inspired many students in politics and government. He made numerous pupils fall in love with various fields related to social studies, who still take him as their inspiration for their career.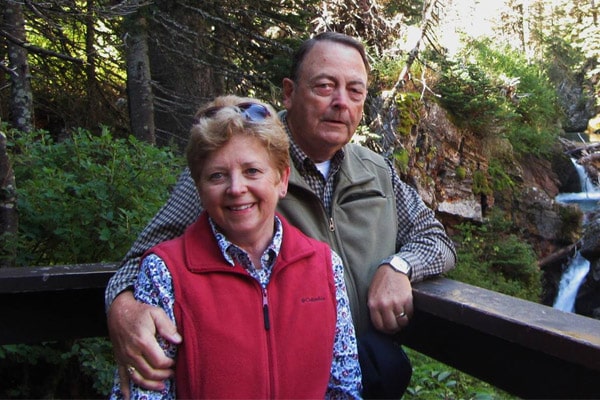 After retiring as a school teacher, Nick Offerman's father, Ric, worked on local farms, did several odd jobs, and spent numerous years laying asphalt. Currently, he is a woodworker at his son, Nick's wood store, Offerman Woodshop.
Ric Offerman worked with wood a lot, though he had not created anything out of wood until 1972. In 1972, he needed help getting up to the toilet. So, for the ease of his children and caretakers, he made a handle little step stool out of pine for himself. Since then, Ric is continuously working as a woodworker. He has made numerous pieces of furnitures for his family's rooms. Also, Ric has furnished most of his relatives' and friends' houses with Christmas ornaments out of wood, Cribbage boards, birdhouses, and many more to date.
Offerman's Mother, Cathy Roberts Was A Nurse
Nick Offerman's mother, Cathy Roberts Offerman, studied Nursing at Joliet Junior College after completing her high school education at Minooka Community High School. After graduating from Joliet, she began working as a nurse at AMITA Health Saint Joseph Medical Center Joliet.
ALSO READ: Real Mom Issues Faced By Today Host Jenna Wolfe
Nick Offerman's mom, Cathy, was just 20 years old when she had her first child. So, she gave a pause to her education to be a homemaker and raise her four kids. When her youngest child was out to school, Cathy completed a nursing degree. After that, she became a full-time labor and delivery nurse in Illinois, where she served for over twenty years.
Currently, Nick Offerman's mom, Cathy, is living a retired life at her home in Minooka, Illinois. She often shares photos of traveling to various places and having fun with her beloved husband, Ric, and her grandkids.
Parents To Three More Kids
Nick Offerman's parents, Ric Offerman and Cathy, live in Minooka, where Ric has been a resident since 1945. As mentioned earlier, the couple has four children, two daughters, and two sons. Their daughters, Laurie Offerman and Carrie Offerman are also in the education field like their father, Ric. Carrie is a social studies teacher at Aux Sable Middle School, while Laurie is an executive director at Three Rivers Public Library District located in the tri-county area.
Furthermore, Ric and Cathy Offerman also have a son besides Nick Offerman. Their other son, Matt Offerman, is a Taproom manager at Iron & Glass Minooka. He also often works with his father, Ric Offerman, at his brother's woodshop as a woodworker.
Moreover, Nick Offerman's parents, Ric and Cathy Offerman, are blessed with five grandchildren. They have two granddaughters from their son, Matt's marriage with Lise Bellefeuille Offerman, and the remaining three grandkids from their daughters.
Explore more on eCelebrityBabies and get updates on Celebrity Babies, Celebrity Parents, Celebrity Siblings, and More.