The Biggest Loser Star Jillian Michaels is one of the most celebrated fitness trainers around the globe. Besides being a television personality and a fitness instructor, she is also an author and a businesswoman. The Los Angeles, California-born, Jillian Michaels is currently a significant icon for fitness, health, and hygiene.
The owner of the reality television series Just Jillian, Jillian Michaels, is a proud mother to two adorable kids with her former partner, Heidi Rhoades. Here, in this article, let's get familiar with some fast facts on Jillian Michaels' daughter, Lukensia Michaels Rhoades, whom Jillian and Heidi adopted in 2012.
Jillian Michaels Adopted Lukensia In 2012
The Fitness Guru, Jillian Michael, was in a domestic relationship with the talent manager, Heidi Rhoades, from 2009. At the beginning of their relationship, Michaels did not have any intention to have a baby. However, her then-girlfriend, Heidi Rhoades, wanted to have one. So, both of them decided to adopt a baby, and they did it in 2012. Michaels adopted a baby girl from Haiti whom she and her ex-partner, Heidi, named Lukensia Michaels Rhoades.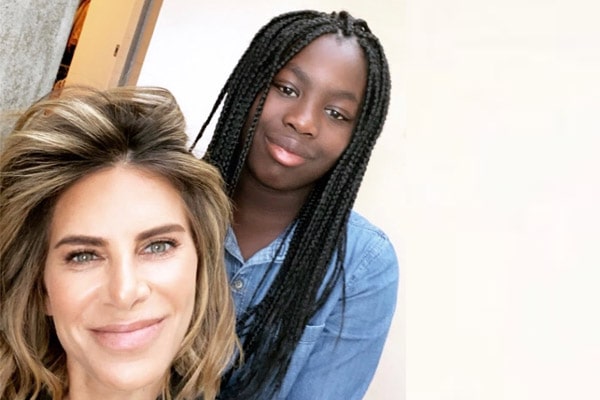 Michael and Rhoades struggled a lot with a lengthy adoption process to bring their daughter, Lukensia, home. It took them two long years to research the adoption process and more time for bringing their little girl home. When Jillian Michaels' daughter, Lukensia, reached her home from Haiti, her little brother, Phoenix Michaels Rhoades, was already waiting for her.
Furthermore, Jillian Michaels' daughter with Heidi Rhoades, Lukensia, is also active on Instagram. She has two Instagram account, one on her name and the other with the name PennyGoldilocksGold which has over 4.5K followers as of January 2021. Going through her Instagram page, it seems like she is enjoying a comfortable life traveling various destinations and meeting several well-known figures.
Lukensia's Brother Arrived The Same Week Jillian Adopted Her
As it takes a lot of time to adopt a kid, Jillian Michaels' ex-fiancee, Heidi, decided to conceive a baby. So, she naturally gave birth to a baby boy, Phoenix Michaels Rhoades, on 3 May 2012. The estranged couple has not revealed their son's biological father and the method Heidi used to conceive to date.
View this post on Instagram

The arrival of Phoenix in Jillian Michaels' life proved to be good luck for her.  After four days of Jillian Michaels' son, Phoenix's birth, she got a letter from an orphanage in Haiti. As Jillian and her ex-partner were eagerly waiting for the day, Jillian, without any delay, flew to Haiti, completed all the process, and adopted Lukensia.
Jillian Michaels' daughter, Lukensia, loves her brother a lot. They love to play, do various activities, and visit several places together with their mom, Jillian.
Jillian Michaels' Daughter Loves Spending Time With Her Mom
Although Michaels' daughter, Lukensia, spends a majority of her time with Rhoades after the custody agreement, she loves to visit her mom, Jillian as well. She loves it when her mom makes her hair, takes her on vacations, and spends her free time with her.
In April 2020, Jillian Michaels' daughter, Lukensia, was spotted with her mom, brother, and her mom's girlfriend, Deshanna Marie Minute. They were enjoying a picnic lunch together in Malibu. Despite having a busy schedule, Jillian is always making sure to give enough time to her daughter. She wants to enjoy all the stages of her daughter, Lukensia's growth and development.
Lukensia Believed That Homosexuality Was Gross
Jillian Michaels, who is in the same sex-relationship with Deshanna Minute, disclosed that once her daughter said Homosexuality was 'GROSS.' And, obviously, Jillian was not proud of her reaction to Lukensia's belief concerning Homosexuality.
ALSO READ: Amy Poehler's Sons With Her Ex-husband, Will Arnett, Archie Arnett & Abel Arnett
While talking to the media, Jillian said that she went through many parenting moments she was not joyfully proud of. However, she thinks the one that was the most serious was when Lukensia was around six years old, and she said that she believed that gay people were gross. It freaked out Jillian at that time.
However, hopefully, the ten-year-old daughter of Jillian, Lukensia's thoughts regarding Homosexuality might have changed now.
Explore more on eCelebrityBabies and get updates on Celebrity Babies, Celebrity Parents, Celebrity Siblings, and More.