YouTube has become a popular platform for thousands of young pre-teen sensations to connect with global audiences. It is currently acting as a beginning point for lots of preschoolers' career in the entertainment industry. The trendy YouTube channel, Like Nastya's Anastasia Radzinskaya, famous with the name Nastya, is one of those famous kid influencers. The Russian youngster, Nastya, shows off her luxurious life via the Like Nastya channel and makes millions from it.
Anastasia Radzinskaya is the only kid YouTube star to win four Diamond Play Buttons from YouTube. All the credits to her success at such a young age undoubtedly go to her parents, Yuri Radzinskaya and Anna Radzinskaya. In this article, get to know Nastya Radzinskaya's parents' story of their YouTube Journey with their enthusiastic daughter.
Yuri And Anna Sold Their Stakes In Business And Joined YouTube
At the moment, Nastya Radzinskaya's parents, Yuri and Anna, run numerous kid-focused YouTube channels in different languages, including Like Nastya. But, before joining the YouTube community, they were busy with their individual businesses. Nastya Radzinskaya's mother, Anna, had a bridal salon in Krasnodar, Russia. Similarly, Nastya Radzinskaya's father, Yuri, had a construction company with 20 employees.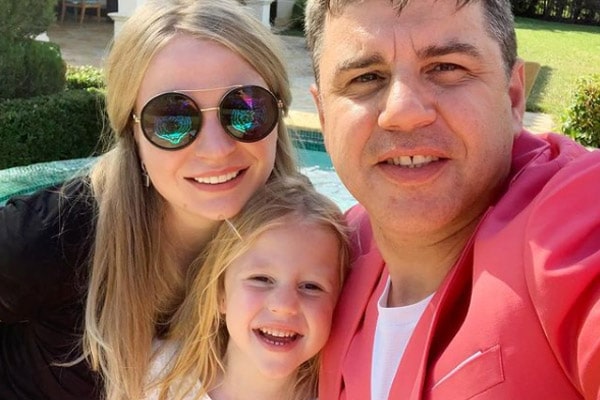 However, both Nastya Radzinskaya's parents were not satisfied with the income from their respective businesses. So, they decided to try their luck on YouTube selling their stakes in businesses. Moreover, another reason for their idea to create a YouTube channel was to film their daughter's story who got diagnosed with cerebral palsy (which proved to be wrong later). The Radzinskaya couple created their first children's YouTube channel, Like Nastya in the Russian language, in January 2016. Firstly, their videos did not get many views as it was just a toy unboxing channel like other kids' vlogs. So, Nastya's mother later came up with her own idea.
Nastya's YouTube channel began uploading a play-based plot video where Nastya and her dad dressed in different costumes and acted out scenes based on popular cartoons. Moreover, they started showing various children amusement parks worldwide. Since then, Like Nastya gained millions of subscribers pulling in millions of dollars. At the moment, Nastya Radzinskaya's parents make multi-millions and live a life they always dreamed of having in the past.
Currently, the YouTube channel Like Nastya has over 65 million subscribers with a total of 0ver 48 billion views! Moreover, Nastya's parents run other YouTube channels in other languages and have over 1 million – 35 million subscribers.
Nastya's Parents Have 20 Employees To Manage Their Channels
Running multiple YouTube channels and leading them to the list of most-viewed YouTube channels is obviously not an easy job. However, Nastya Radzinskaya's parents are succeeding in doing so with the help of 20 employees dedicated to the YouTube operation. The employees help Nastya and her parents edit and translate their fun-filled videos to attract millions of audiences worldwide.
Nastya's vlog features her and her dad, Yuri, doing many fun activities, displaying new toys and games for children, and traveling to the most interesting places kids dreams to visit. All of those videos are illustrated in color by videos with attractive titles. Though Nastya rarely speaks in most of the vlogs, she and her dad skillfully play various roles, which easily fascinates their young audiences.
ALSO READ: Kid YouTubers, Vlad, And Nikita, Highest Paid YouTubers In 2020
Furthermore, Like Nastya's videos are not specific like those of other YouTubers such as Ryan Kaji and Eva Diana. Nastya Radzinskaya's parents come up with different ideas for their contents. Some of their videos focus on moral stories related to everyday life, while others are borne of Nastya's passions. Moreover, the videos are usually shorter, emphasizing a narrative with high completion rates in a short time.
Anna and Yuri Are Trying Their Hands Out Of YouTube World
Nastya and her parents have already conquered the YouTube empire. Now, they are seeking to try their hand at constructing an off-platform realm like other YouTube stars. Nastya has already set up a mobile game with the constant support of her mom and dad. The application consists of four games in total to keep the little ones gripped.
View this post on Instagram

Moreover, Nastya and her dad are active in the current famous social media page, TikTok. The father-daughter duo uploads laughter-filled short videos on their TikTok, which has 5K followers with a total of 34K likes and still counting. Likewise, Like Nastya and her mom, Anna is also on Instagram. At the moment, Like Nastya's Instagram has 218k followers, and Anna is followed by nearly 9K Instagrammers around the globe.
The Russian native, Nastya, and her parents moved from their homeland, Krasnodar, Russia, some years ago. Currently, the happy family of three lives a sumptuous life in Boca Raton, Florida.
Explore more on eCelebrityBabies and get updates on Celebrity Babies, Celebrity Parents, Celebrity Siblings, and More.