American actor Matt Bomer is an American actor and is known for being the recipient of the Golden Globe Award and the Critics' Choice Television Award for his roles over the years. Matt has been part of movies like The Nice Guys, Walking Out, Anything, etc., but his best performance is said to be the portrayal of a closeted writer of The New York Times in The Normal Heart, a television film about the HIV-AIDs crisis in New York City. He is currently playing Larry Trainor in Doom Patrol, a DC Universe series.
Just as much as Matt's professional life is known to the public, his personal life has gained similar highlights after he came out as gay. His mother, Sissi Bomer, was his support all his life but was shocked at first to know her son was gay. So, let's try to know Matt Bomer's mother, Sissi Bomer, personally, as well as what she did for a living.
Sissi Bomer Was Shocked To Hear Matt Was Gay
Even in the 21st century, it is pretty hard for people from the LGBTQI community to come out publicly, and even before that, parents are the biggest hurdle to overcome. Matt came out as gay in 2012 but revealed in an interview that both his father and mother were shocked after knowing his sexuality. Bomer's family follows a religious faith, and it really took them some time to realize what was wrong with their thinking.
Matt revealed that his grandmother was the one who did not hesitate even an inch after knowing his sexuality. He said that she was a loving and accepting Christian who gave zero f**ks about his sexuality.
Also Read: How Long Rob Lowe And Chad Lowe's Father Charles D. Lowe Has Been Practicing Law? 
Matt Had A Hard Time Convincing His Parents
As we mentioned earlier, Matt Bomer's mother and father did not take the news about his sexuality with a chill-pill. He really had a hard time convincing his parents about being gay. Matt first revealed to his brother at the age of twenty-four but was pretending straight during his youth, in the 'Bible Belt' of Texas. Matt's parents did not talk about his sexuality for about six months after his reveal, but after so many years now, the family is on good terms.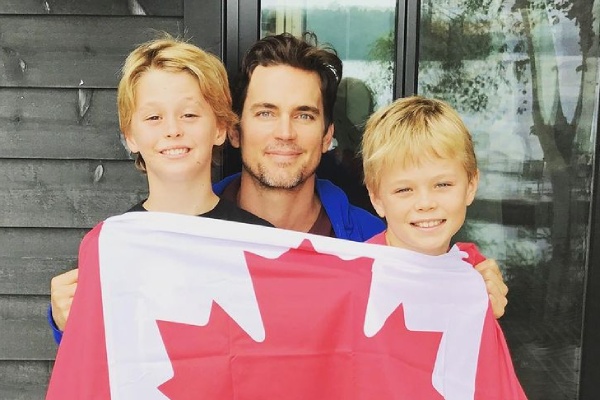 Matt had to send a letter to his parents whole revealing his sexuality as he was too afraid to say it face to face but was really surprised by their reaction to it. Thankfully everything has changed since then, and the family continues to live together as a fun-loving family.
Sissi Is A Mother Of Three
Sissi Bomer gave birth to three children including Matt Bomer and his two siblings Megan Bomer and Neill Bomer. All three of them have families of their own now and are living a happy life. The three siblings can be regularly seen having get-togethers and having a great time. Sissi sure did a great job of raising three kids while also being a wonderful wife.
Matt Bomer's Mother Lays Low On Media
Matt Bomer is a global superstar, but his mother, on the other hand, remains pretty low on media. She has very limited media appearances that too with her son. Nevertheless, Matt makes sure to acknowledge his mom and her well doings.
Happy Mother's Day 2 the greatest mother anyone could ask for, & 2 all the amazing, hardworking mom's out there making the 🌎 a better place. pic.twitter.com/PnY0V1kfT4

— Matt Bomer (@MattBomer) May 14, 2017
Sissi's husband and Matt's father John Bomer was a former football player who played for the Dallas Cowboys. As for his mother, her job has not been revealed yet.
Let's hope in the coming days; we got to hear more from Matt Bomer's mother and know how the tension developed about his sexuality. We just have to be patient and wait for further info to come out.
Explore more on eCelebrityBabies and get updates on Celebrity Babies, Celebrity Parents, Celebrity Siblings, and More