Ben Schwartz is an American actor who is best known for playing Jean-Ralphio Saperstein on the NBC sitcom Parks and Recreation, and also Clyde Oberholt on the Showtime series House of Lies. The 39-year-old has been in the industry for more than a decade and is not retiring anytime soon. Ben has established himself as a prominent comedic actor, and fans are always eager to see him.
As Ben Schwartz's popularity is increasing day by day, fans are more than eager to know him personally. Ben was born in a family with a social worker dad who later went into real estate and with a  mother who was a music teacher. While Ben's character had a twin sister played by Jenny Slate on Parks And Recreation, who might be his sister in real life? Let's find out by reading this short article about Ben Schwartz's sister.
Who Is Ben Schwartz's Sister?
We all know how good of an actor Ben Schwartz is, and as he continues to establish himself deeper into the entertainment industry, people desperately want to know about his personal life. And the most burning question of all is, does Ben have a sister in real life? The answer to that question has no definitive answer to this point as Ben has not revealed anything about his siblings. The actor seems to really like privacy and rarely reveals anything related to his personal life.
Ben Has A Nephew And A Niece
While Ben has not revealed about his siblings, we can be sure that he does have one or more siblings given by the fact that he has a nephew and a niece. Ben shared a cute photo with his nephew and niece back in 2014 when he was greeted by them after getting off the train in New York.
View this post on Instagram

The two really seem to be fond of their uncle as they can be seen hugging him as soon as they see him. Well, the kids sure are lucky to have Ben as their uncle. Who would not want someone as cool as Ben to have as an uncle? And, the relationship the three share is just too adorable. Let's hope we get to see more of these cute moments of Ben as an uncle.
Also Read: Who Is Lindsay Price's Brother Bryan Price? 
His Relationship With Twin Sister On Park And Recreation Is Quite Popular
As we mentioned earlier, Ben has not revealed the identity of his siblings, but his brotherhood has gained more popularity onscreen rather than off-screen. Ben's character Jean-Ralphio Saperstein is a friend of Aziz Ansari's character in Parks and Recreation and has a recurring role along with his twin sister, played by Jenny Slate. The two twins steal the spotlight almost every time they appear with their quirky humor.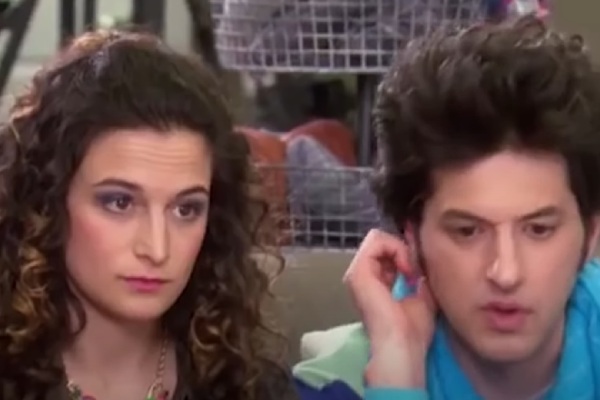 The two siblings on set add a different comedy to the show, which makes it even more appealing to watch. They are even asked if they are siblings in reality due to their physical similarities. We have all seen how great of a brother Ben can be through Parks and Recreation, and the only thing that remains is to see him as the same in real life. So, let's hope we get to know Ben Schwartz's sister if he has one.
Explore more on eCelebrityBabies and get updates on Celebrity Babies, Celebrity Parents, Celebrity Siblings, and More.