Only a few won't recognize the name John Cena; the WWE wrestler cum actor is loved by millions around the world. While he is famous for his ring charisma and excellent physique, John is even a wonderful brother to all of his four brothers.
As acting runs through the family,  John Cena's brother Steve Cena also comes under the same field. Steve is an avid voice actor as well as a stage actor. While Steve likes to keep his personal life under the radar, he has definitely made few appearances here and there. Steve has some interesting facts that may take any John Cena fans by surprise, so without further delay, let's get right into it.
Steve Cena Is A Puppet Artist
With a hefty build and excellent physique, one may easily assume, Steve Cena should also be a wrestler like his younger brother, but that is not the case. Steve is a wonderful puppet artist and has performed his puppetry on multiple platforms. This is also evident from his social media accounts like Instagram.
View this post on Instagram

Steve also has a collection of puppets whom he refers to as alter egos. While his appearances in media remain very minimal, he sure is very charismatic and humorous like his brother. Let's hope we get to see more of his wonderful puppetry in the coming days.
Steve Is Also An Voice Actor And A Stage Artist
As evident by his Twitter bio and Instagram posts, John Cena's brother Steve is also a stage artist and a voice actor. He has been featured in multiple stage dramas depicting characters spread across multiple genres. The amount of realism and emotions he showcases in his acting can be seen from the photos he has shared.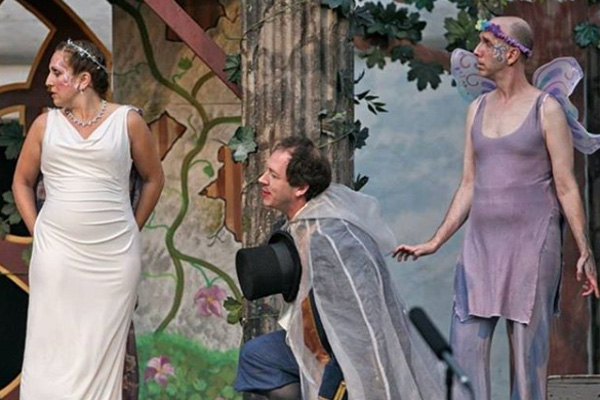 Steve is also a diversified voice actor, although it is not clear what type of voice acting he does, he sure claims to be one. While his brother has made appearances in blockbuster movies, we may very well see him do the same with either his acting or voice acting.
John Cena's Brother Steve Made A Guest Appearance On Total Divas
Steve Cena made a guest appearance in the reality show 'Total Divas' alongside his father John Cena Sr. in an episode back in 2013. This was already hinted by his brother John Cena beforehand on Twitter. Steve sure seems to love what his brother has accomplished and is a full supporter of his success.
Apart from this appearance, Steve has also been featured in other films such as 'Bloody Island,' and the much recent 'Return to Clark Country.' We can surely expect to see him make more of these small but memorable appearances in the future.
Steve Is A Proud Gay
As we mentioned above, Steve Cena made a guest appearance in the E! reality show 'Total Divas' back in 2013. In the same show, Steve revealed that he was gay quite casually and was accompanied by his partner Darlando.

Steve must have gotten full support from his brother who is very supportive of the LGBTQ community.
Oldest Of the Five Siblings
Steve Cena is the oldest of the five Cena siblings which consists of himself, John, Dan Cena, Matt Cena, and Sean Cena. All of the five siblings have found a lot of success in their own respective fields. And, coming from an athletic family having maternal grandfather Tony Lupien who was a baseball player, all of the siblings are more than athletic on their own rights.
The siblings share a precious bond, and being all boys, their mother must have had a hard time taking care of all five. Nevertheless, all of them turned out to be wonderful, and their mother must be proud of them. While fans are thrilled to see all of the brothers make an appearance on media at the same time, we can only hope and be patient till the lucky day comes.
Explore more on eCelebrityBabies and get updates on Celebrity Babies, Celebrity Parents, Celebrity Siblings, and More.</span