American rapper and singer MGK is someone who needs no introduction. The talented 30-year-old musician has made waves around the world with his music. Either with his exquisite rap-verse or stunning punk rock songs, Machine Gun Kelly has been a phenom. Kelly's versatility is also one of his unique traits that makes him more the wonder.
With a lot of hype surrounding MGK's relationship with Megan Fox, fans are now more than eager to know about his past life. And this is where MGK's parents add up to the equation. Kelly was born as Richard Colson Baker to his missionary parents. Let's go through this short article to know more about how his parents affected his growth as a child and forged him into a brilliant rapper.
MGK's Parents Moved From Places To Places
Growing up, MGK had to move to different places due to his parents' frequent travel. He had to adjust to different lifestyles again and again in places like Texas, Kenya, Germany, and Egypt. The rapper finally settled in Denver with his father, where he attended Hamilton Middle School.
MGK's parents had him travel a lot, and for a young kid like him, it was tough to cope with different places. Every time he would try to settle down, he moved again. This had shaped him up to be a very distant and troubled child when he was a kid.
MGK's Mother Left When He Was Nine Years Old
MGK had to grow up without his mother's warmth and love because she left him when he was just nine. After his mother left, MGK and his father settled down in Denver with his aunt. MGK used to get bullied in school but couldn't fight back. During his sixth grade, he started listening to rap because it related to his condition. He liked DMX's rap verse and especially his 'We Right Here' video. DMX had a huge influence on him because neither of them had siblings, so they had to fight many dark things by themselves.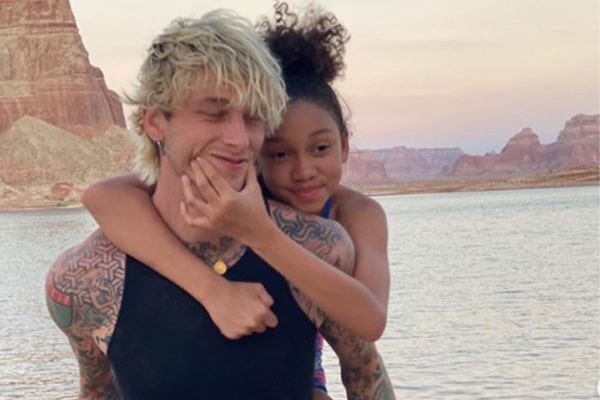 Had his mother been with his side, MGK might have had a wonderful childhood. MGK said that because of his mother's departure, the two have no relation at all. As of now, MGK has not revealed much about his mother. Only time will tell whether the two will reconcile with each other or not.
MGK's Father Suffered From Depression
As mentioned above, after MGK's mother left him and his father, the two settled down in Denver with his aunt. But things got even worse when MGK's father suffered from depression and unemployment. With both of his parents not by his side, MGK had to fight all the troubles he had to face by himself. Furthermore, his father also left him, which lead him to leave school.
MGK's father came back to take Kelly to Kuwait, but things went sideways, and the two settled down in Cleveland in 2004. MGK gained most of his fame from Cleveland's Shaker Heights High school, where he also got his famous name Machine Gun Kelly for his rapid-fire delivery.
MGK's Father's Saddening Death
After years of distance between him and his father, MGK, had finally reconciled with him. But things do not always work out as they are supposed to. The 30-year-old rapper was in pain when his father left this world on July 6, 2020. The rapper said that he had not felt that much pain till now.
View this post on Instagram

According to the New York Times, MGK's father was hospitalized in Denver with an illness unrelated to the COVID-19 pandemic. Furthermore, the rapper talked to his father a few days ahead and was really happy that his father was proud of him and his music. This news shook him when he thought finally things were getting better.
May his soul rest in peace and power.
Nevertheless, having faced different troubles as a kid, MGK has grown up to be a great rapper and a doting father. He has a daughter, Casie Colson Baker, with whom he shares an inseparable bond.
Explore more on eCelebrityBabies and get updates on Celebrity Babies, Celebrity Parents, Celebrity Siblings, and More.