Marco Pierre White is a celebrity chef who has gained major fame due to his years of dedication to quality cooking. He is both the first and the youngest British chef to get three Michelin stars at the age of 32. He also trained well-known notable chefs like Gordon Ramsay and Curtis Stone, which further elevates his level of expertise.
As Marco Pierre White has been making guest appearances on cooking shows every now and then, fans are eager to know about his family as well. Marco has married thrice in his life and has divorced an equal amount of times. With three marriages, Marco became a father of four Letitia Pierre White, Luciano White, Marco White Jr., and Mirabelle White, so why don't we check some interesting facts about all of Marco Pierre white's children.
Eldest Daughter Letitia Was Learning Tailoring
Born to first wife Alex McArthur, Marco Pierre White's daughter Letitia was a tailor apprentice at Mayfair in London, according to Marco's interview back in 2013. It has been almost a decade since that interview, so Letitia must have been a full-fledged tailor now.
Marco also mentioned that Letitia reminded him of his mother, who used to make clothes for him. He was really proud that Letitia was enjoying her work a lot.
Marco Pierre White's Son Luciano Is A Restaurateur
Marco's only child who took after him is none other than his son Luciano White from his third marriage with Matilde Conejero, the bar manager at The Canteen in Chelsea Harbour. Luciano currently operates a restaurant Luccio's, in Dorchester, Dorset, which started in September 2020. His path to opening a restaurant has not been an easy one, but with guidance from his father, he will surely gain a lot.
Luciano's restaurant offers Italian at affordable prices and a friendly ambiance. Moreover, he honored his Italian grandmother Maria Rosa on the menu. He had previously worked with Pierre Koffman in London and the Adria brothers in Barcelona and also spent some time in Mumbai, India.
Also Read: Know Some Interesting Facts About Dad Matt Bomer's Three Sons
MPW's Daughter Mirabelle Is A Ballerina
Marco Pierre White's only daughter with ex-wife Mati Conejero is a ballerina. Mirabelle is probably the closest to her father out of all of Marco Pierre White's children, as the two can be seen spending a lot of time with each other. Mirabelle has been learning ballet from a young age. The youngest child of Marco has won several awards for her amazing dancing. She learned ballet at the Royal Ballet School while also winning the 1st Prize in the Year 7-9 category selected by Patrick Cullen.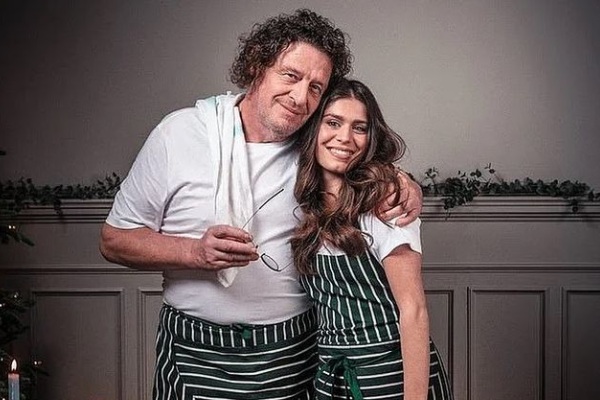 As of now, Mirabelle seems to be interested in pursuing a career in dancing, and Marco is a proud dad with what she has achieved at such a young age. Regardless of what she will do down the road, she will definitely get full support from her parents.
Mirabelle Is In A Relationship
The youngest of Marco Pierre White's children, Mirabelle, is in a relationship with a guy named Bruce Eadle, who works in a showroom. The couple has been dating since 2019 and is looking really great together.
Marco Pierre Jr. Is A Father
Marco Pierre White became a grandfather through his son Marco Pierre White Jr. back in 2019 as Junior Pierre welcomed his daughter Arabella Rosa Pierre White with his girlfriend, whose identity is yet to be revealed.  Marco was a contestant at the popular show Big Brother where he gained a huge amount of fame.
Pierre Jr. Is Famous For His Notoriety
Marco Pierre White Jr. is probably the most popular out of Marco Pierre White's children. But most of his fame comes from his notoriety. Marco Jr. is famous for his controversies regarding drug addiction and petty crimes. He also became the highlight of the news when he bragged about spending £250,000($343,350) of his dad's money on "prostitutes, cocaine, and alcohol" in about three months during his Big Brother appearance in 2016.
View this post on Instagram

Moreover, Marco Jr. was charged with stealing a £40($54.94) Nokia mobile phone and had to show up to court before the case was dropped.  He was also fined £1,300($1,785.42) for fleeing a cafe without paying for £27($37.08) breakfast. Pierre Jr. has shown some improvements in his behavior after he became a father, so let's hope he will finally get on track and stop tarnishing his as well as his father's image.
Name Meaning Of Marco Pierre White's Children
Letitia is a Latin name that means 'happiness.' Luciano is a name of Italian origin, and it means 'light.' Mirabelle is a name of Latin origin which means 'wondrous beauty.' Marco is a name of Latin origin, and its meaning is 'war-like.' And Pierre is a name derived from the French name 'Peter,' and it means 'stone.'
Explore more on eCelebrityBabies and get updates on Celebrity Babies, Celebrity Parents, Celebrity Siblings, and More.