Renee O'Connor is an American actress best known for playing the supporting role as Gabrielle in 'Xena: Warrior Princess, ' which features actress Lucy Lawless in the lead role.  Renee has been devoted to acting for quite some time now. As for her marital life, she is currently married to actor Jed Sura after ending her marriage with Steve Muir in 2005.
Steve and Renee have a son together, who they named Miles William Muir. After his parents' divorce, Miles spends most of his time with his mother, Renee and step-dad Jed. Miles also has a half-sister, Iris Sura O'Connor. Furthermore, Miles also spends some quality time with his friends as well. If you are interested to know more about this celebrity kid, stick with us till the end of the article as we go through some intriguing facts about Renee O'Connor's son.
Miles William Muir Recently Graduated From Highschool
Renee O'Connor's son, Miles, recently graduated from high school with a focus on theater arts. It was revealed in Renee's Instagram post that Miles's commencement day was on
View this post on Instagram

Miles is grateful to have such an amazing mother in the form of Renee O'Connor. He is also pretty close to his stepdad, Jed Sura. However, Miles's biological father, Steve, is pretty much off the grid. Whatever is the case is with Steve, let's hope he is on good terms with his son.
Renee O'Connor's Son Miles Is Following His Parents Footsteps
If he was already not lucky enough to be born in a family full of actors, Miles got to work as a lead character in the movie 'Watch the Sky.' The production of the movie started when Miles was only 14. The movie also featured his half-sister Iris Sura O'Connor. The audience also loved his work on the movie. He sure seems to be on his way to becoming a sought out actor in the coming days.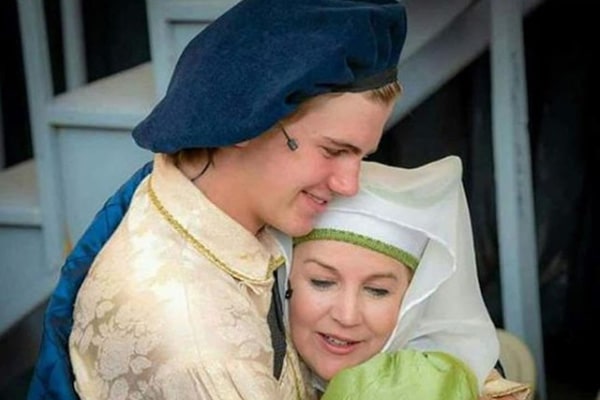 Apart from the movie, Miles has also played a few theatre roles, such as 'Romeo.' In contrast, his mother played the 'Nurse' in the same professional production of Romeo and Juliet for Southern Shakespeare Company in Tallahassee, Florida. Miles's acting looks more than promising, and when he reaches his peak, let's hope we get to see a boatload of astounding performances from him.
Plus, if the emerging actor ever needs any acting advice and tips, he surely knows whom to ask.
Miles Likes To Keep A Low Profile
Unlike his parents, who are big-time celebrities, Renee O'Connor's son Miles likes to keep a low profile on social media. He has two Instagram accounts, but he keeps one private while another account is pretty passive. Miles is still growing up, and he must want to keep his personal life away from any media spotlight to avoid distractions. His wish to keep a low profile can also be seen through his mother's post after graduation, telling her fans not to reuse the video.
The recent high school graduate has a lot to learn to reach the levels of his parents. As it seems now, Miles is on his way to becoming a competent actor. But he has a long way to go before he reaches the level to make his parents proud. We, as the audience, need to be patient and wait for his career to really bloom.
Name Meaning: Miles William Muir
Miles is a name from the Latin 'miles,' which means a soldier.  In Medieval Latin, the medieval knight was called 'miles' while in Classical Latin, 'miles' meant simply a soldier of any sort.
Explore more on eCelebrityBabies and get updates on Celebrity Babies, Celebrity Parents, Celebrity Siblings, and More.