If you are a basketball fan, you must have heard the name Jeff Hornacek. Jeff (Jeffrey John Hornacek) is a professional American basketball coach who has been in this game for a really long time. The fifty-seven years old currently serves as the assistant coach of the Houston Rockets in the National Basketball Association (NBA). Before this, he had also served as the head coach of Phoenix Suns and the New York Knicks. Jeff is a player-turned coach.
This coach likes to keep his personal life under the radar; that is why there is not much information about his family on the internet. He is married to Stacy Hornacek; they have been happily married since June 7, 1986. The couple has given birth to three wonderful children, and all of them are grown-ups now. This is our attempt to accumulate and present facts about Jeff Hornacek's son, Tyler Hornacek.
Tyler Was Born To Jeff Hornacek And Stacy Hornacek
The famous NBA coach Jeff Hornacek and his wife Stacy Hornacek welcomed Tyler into this world on June 19, 1990. Tyler is not the only child of this life-long couple. He has two siblings: an elder brother Ryan Hornacek (born in 1989), and a younger sister Abby Hornacek (born in 1994). He had had a wonderful childhood with his two siblings, and they continue to carry the same bond even today.
View this post on Instagram
In addition to the love of siblings and mother, his father always had his back. Tyler's father, Jeff, was so concerned about their upbringing that he decided to discontinue his career after he retired as a player. It was only after the children were grown up that Jeff decided to continue his work by signing up as a coach. What Jeff had sacrificed has been really worth it since his children have become beautifully brought up.
As of now, there has been two more additions to Tyler's family, his sister-in-law (wife of Ryan), Casey Hornacek, and his nephew Frank Hornacek.
Tyler Works Is An Account Executive
According to Fabwags, Jeff Hornacek's son Tyler Hornacek currently works as an Account Executive at USC Sports Properties (USCSP). It is a division of Fox Sports and is the multi-media and marketing rights holder for the University of Southern California.
Tyler has a bachelor's degree in Business Administration from the University of Southern California. He played volleyball during his years at USC. He completed high school at Brophy College Prep in Pheonix, Arizona. As an outcome of his athletic genes, he played volleyball and basketball in high school. Not only that, but he was also a 2008 All-State honorable mention pick as a junior in high school. Currently, he works for USC, the same university he studied in.
ALSO READ: Michael McHale, Facts About Kevin McHale's Son With Lynn McHale
Tyler Is Very Close To His Youngest Sibling, Who Is A Famous Sports Journalist
As aforementioned, Tyler Hornacek has two siblings: Ryan Hornacek and Abigail Marie Hornacek (Abby Hornacek). All of them share a strong bond with each other, but the bond between Abby and Tyler seems to be stronger. Through Abby's Instagram handle, we can see the brother-sister duo spending a lot of fun and quality time together. However, their other sibling Ryan is seen quite rarely.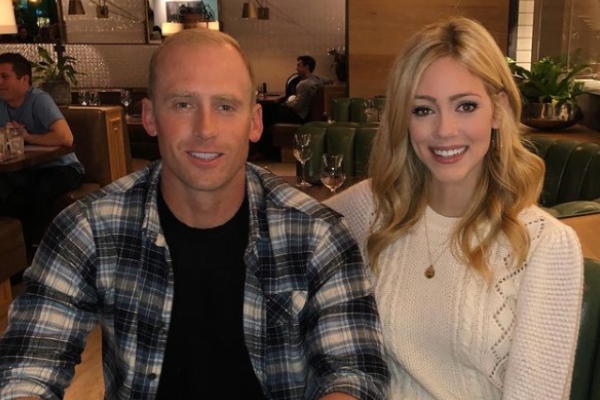 Tyler's sister, Abby Hornacek, is a sports journalist for Fox Sports. She is also a USC graduate with a Broadcast Journalism major and a Sports Media minor. She is a popular T.V. presenter with around 80k followers on Instagram.
Jeff Hornacek's son Tyler Hornacek is a bachelor living his life in Los Angeles. He is a man with a fine career; we wish him good luck with this job and wish to see him tying a marital knot really soon.
Name Meaning: Tyler Hornacek
The name 'Tyler' is a name of English origin that means 'doorkeeper of an inn' or 'owner of a tavern.'
Explore more on eCelebrityBabies and get updates on Celebrity Babies, Celebrity Parents, Celebrity Siblings, and More.