Iain Armitage is an American child artist and a theatre critic. Armitage is mostly known for his roles as Sheldon Lee Cooper in Young Sheldon. With this role and his acting skills, he was able to bag the Young Artist Award for Best Performance in a TV Series- Leading Young Actor.
Iain comes from a celebrity family, but he wasn't much into acting before he got some offers from the agents. Rather, he liked being a theatre critic. Iain also dreams of being a magician someday. You might be eager to know how he started his career in the industry and ruled it. Read the whole article to know facts on Iain Armitage, a kid celebrity, popular as Young Sheldon and the voice star of the upcoming movie Paw Patrol: The Movie.
The Young Sheldon Actor Is The Son Of Actor Euan Morton
This extremely talented actor, Iain Armitage, was born to actor and singer Euan Morton and producer Lee Armitage on July 15, 2008. Iain's father, Euan Morton, is a Scottish actor and is most famous for his role of Boy George in Broadway's Taboo. Iain's dad has received nominations for the Laurence Olivier Award and Tony Award for his performance. Euan has been playing the role of King George in the Hamilton on Broadway since July 2007.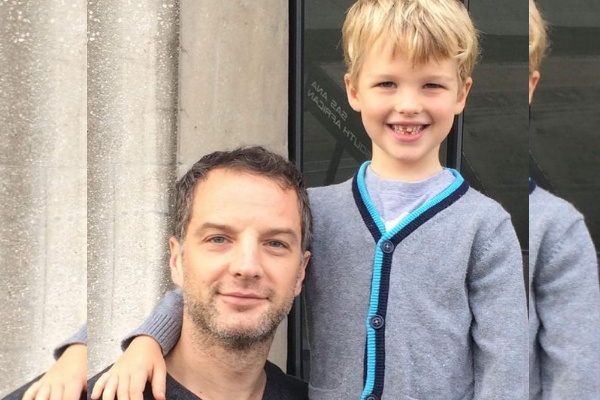 Iain Armitage comes from a celebrity family but had no intention of entering the industry- especially as an actor. But the future had something else for him. Let's see how his life took a turn.
Iain Armitage Caught The Eyes Of The Agents After His YouTube Series Iain Loves Theatre
Iain's parents had started uploading Iain's videos on YouTube since 2012, but what brought him to the spotlight is his theatre review. At the early age of 6, Iain started critiquing theatres. He had reviewed a number of shows, including Hairspray, Pippin, Matilda, How To Succeed in Business Without Really Trying, Gypsy, School of Rock, Rocky, Oliver!, and most recently A Chorus Line.
Eventually, the, then, amateur online theater critic had lines of agents wanting to sign him up. Iain Armitage landed his first break when an agent, Jamie Pillet, spotted him through his YouTube Channel, which currently has more than 17k subscribers. Iain's parents, being involved in this industry themselves, were not pretty excited in the beginning; but they agreed to it after a meeting with Pillet. Iain Armitage landed his first role when he showed up to the meeting dressed up as the Phantom of Opera.
ALSO, READ: Was Mindy Kaling's Mother, Swati Chokalingam, Interested In Acting?
Armitage Is Most Popular For Playing Young Sheldon
As aforementioned, Iain Armitage has gained fame and massive followers through his role as Sheldon Cooper in the Young Sheldon. Armitage has indeed done full justice to the titular character of young Sheldon Cooper.
View this post on Instagram
For those of you who don't know, Young Sheldon is the prequel series of The Big Bang Theory, one of the best sitcoms in history. Jim Parsons, who played the role of adult Young Sheldon had already been successful in nailing the character along with a Golden Globe and four Emmys. This had set the bars high for Iain Armitage, but he stood up to the expectations and brought life to the character of young Sheldon Cooper. With this role, Armitage stole the hearts of millions, and one of them is Jim Parsons himself.
The 12 years Old Has Also Starred As Ziggy Chapman In Big Little Lies
Iain had made his acting debut through an episode of Law & Order: SVI. But what made him shine was HBO's Big Little Lies, in which he starred along with Reese Witherspoon, Nicole Kidman, and Shailene Woodley. He played Ziggy Chapman, a troubled kid. This was quite a big achievement for someone who was only 8 years old.
Iain Armitage's Net Worth Is In Millions
Iain is already making the headlines with his excellent acting. With fame like his and playing the main character in a beloved series, Iain has amassed a million fortune of millions of dollars. According to Celebrity Networth, Iain Armitage's net worth is currently valued at around $4 million. Iain is one of few child actors who are able to get the success he has gotten. At the age of 12, his fortune is already in millions and it is only bound to increase.
Iain Is Up for Paw Patrol: The Movie As A Voice Star
As one might expect, the Young Sheldon star has lines of people who want him to work for them. This 12 years old has many upcoming projects, and one of the major ones among the bunch is Paw Patrol: The Movie.
This movie will open a new chapter of Nickelodeon's children's program that was kicked off back in 2013. Nickelodeon Movies, Paramount Pictures, and Spin Master Corp. have jointly formed a star-studded cast (voice star) including Jimmy Kimmel, Kim Kardashian West, Randell Park, Yara Shahidi, Dax Shepard, Marsai Martin, Tyler Perry, and Will Brisbin. This animated movie will be directed by Cal Brunker.
The actor who hit the jackpot through the challenging role of Young Sheldon has been reaching new heights every day. He has come a long way, and we hope that he will make a bigger name for himself in the coming days.
Explore more on eCelebrityBabies and get updates on Celebrity Babies, Celebrity Parents, Celebrity Siblings, and More.