Almost every Hollywood fans and those who are in Hollywood Industry recognize the celebrity couple, Kathryn Hahn and her husband Ethan Sandler, well. Comparatively, Hahn is more famous among people as an actress, comedian, and producer. She has starred in numerous acclaimed TV films and dramas to date, like Afternoon Delight, Private Life, and Transparent. Similarly, Sandler's acting credits include Meet the Robinsons, Crossing Jordan, and The Chocolate War.
The Bad Mom star, Kathryn Hahn, is a good mom in real life. She has a son and a daughter with her husband of over a decade, Ethan Sandler. Here, get to know some more about Kathryn Hahn's children, Mae Sandler and Leonard Sandler.
The Eldest Child Of Kathryn Hahn, Leonard Sandler
Leonard Sandler is the eldest son of the beautiful actress Kathryn Hahn with Ethan Sandler. The couple welcomed their son, Leonard, in 2006, four years after their marriage. According to sources, Kathryn was both excited and afraid when she was pregnant with Leonard as she was just gaining fame then. Moreover, at that time, both Hahn and Sandler were starring in the show 'Crossing Jordan.'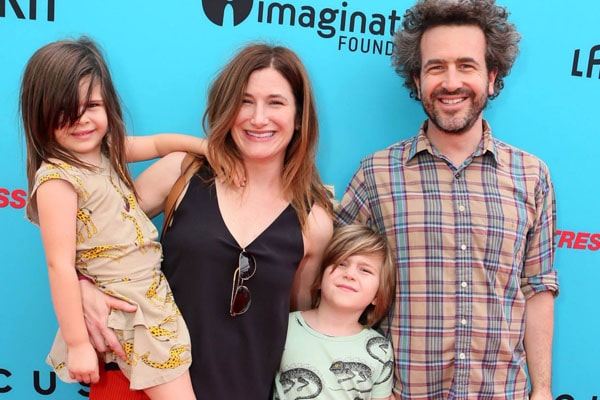 Leonard Sandler rarely appears on the red carpet events with his celebrity parents. However, his mother, Kathryn, often talks about his childish activities, making her feel alive in various media interviews. She often talks about several hilarious moments with her son, Leonard.
Kathryn Hahn's son, Leonard Sandler, once got a bribe from his mother when he asked her why the tooth fairy did not come to take his teeth away. Besides, there are many other funny incidents that Kathryn Hahn and her son experienced together, including applying the Lavender oil straight instead of diffusing it during spa time.
Ethan Sandler And Kathryn Hahn's Daughter, Mae Sandler
Kathryn Hahn's daughter, Mae Sandler, is three years younger than her brother, Leonard Sandler. She joined the Sandler family on 27 July 2009. At the time, Kathryn was seven months pregnant with her second child, Mae; she was starring in the romantic comedy film 'How Do You Know.'
When Kathryn Hahn's daughter, Mae Sandler, was seven, she used her first swear word, which every parent fears. Hahn shared it with the People magazine while attending the Alliance of Moms Presents Raising Baby event in Los Angeles. She told the magazine,
"It was not a good one, but it was used correctly. It was used as an adverb and there was a big old 'ing' on the end."
Furthermore, Mae Sandler and her celebrated mom, Kathryn, used to appear in public events together in the past. However, it has been some years since the mother-daughter duo has not come to the public view together. The last time Kathryn Hahn's daughter, Mae, appeared in the media was in 2018's world premiere of 'Hotel Transylvania 3: Summer Vacation.'
The Private Life Star, Kathryn Wrote A Book With Her Daughter
You might be surprised to know that Kathryn Hahn is also an author. She wrote a book named 'My Wish for You' with her daughter, Mae Sandler, in 2018. Mae's mother, Kathryn, wrote the book inspired by the everyday life lessons of raising six-year-old Mae. It is a lesson in never becoming doubtful or blunted.
ALSO READ: Director Robert Zemeckis' Children With Two Baby Mamas
Kathryn came up with the idea to write the book during bedtime with Mae when Mae shared her unfiltered thoughts. During a talk with TODAY, Kathryn said that there are confidence and purity to her daughter Mae's feelings. There is something about keeping that part of Mae awake and alive. In the same interview, she revealed that Mae is not getting paid for helping her write the book.
Kathryn Hahn Prefers Her Children To Have A Normal Childhood
Most celebrity parents usually prefer to keep their children away from the reach of media. The same case applies to The Fang Starrer Kathryn Hahn and her partner, Ethan Sandler. Though they often have to come in public due to their profession, they always make sure not to bring their kids to any of the events. Moreover, the overly concerned parents of two, Kathryn and Ethan, do not have social media also.
While asked why the public don't see Kathryn Hahn's children in photos very often, Kathryn replied that she lives a pretty normal life. She added that despite having a rich and creative life, she has kept her two kids separate and holy.
Currently, Kathryn Hahn's children, Leonard and Mae, live a happy life with their famous but attentive parents, two dogs, a rabbit, and a dwarf teddy bear hamster. The kids also must be very close to their maternal grandparents.
While Kathryn Hahn appeared in the Late Late Show with James Corden, she told that her daughter, Mae, convinced her to buy their newest pet hamster. Mae even trained it to smell so that it knows her scent. Nevertheless, the Sandler kids are living a fun-filled and lavish life far from the media's reach.
Explore more on eCelebrityBabies and get updates on Celebrity Babies, Celebrity Parents, Celebrity Siblings, and More.