Bryan Cranston is a versatile and prolific American actor famous for displaying an authoritative voice and presence in several roles in numerous TV films and series. The celebrated TV personality Cranston is popular for his intense portrayal of a chemistry teacher turned drug kingpin named Walter White in the TV series Breaking Bad. Besides, he is also known as a director, producer, and screenwriter of a couple of episodes of TV sitcoms like Modern Family, The Office, and Sneaky Pete.
Besides being a successful entertainment personality, Bryan Cranston is a responsible family man. He is one of the three kids of former actor Joe Cranston and voice actress Peggy Sell. Bryan has a sister named Amy Cranston. Here, learn some more facts on Bryan Cranston's sister, Amy Cranston, including her personal and professional life.
An Executive Director At SEL4CA
Bryan Cranston's sister, Amy Cranston, also famous with the name Amy Karalius, currently serves at the Social-Emotional Learning Alliance for the State o California (SEL4CA). Cranston is working as the Executive Director of SEL4CA since July 2019. Amy joined the Alliance in the fall of 2018 as a steering committee member. Eventually, she agreed to lead and chair its first statewide SEL conference, scheduled for 2020.
Before joining SEL4CA, Bryan Cranston's sister, Amy Cranston, worked as Director of Expanded Learning Services for the Ventura County Office of Education for some years. Also, as a veteran educator of over twenty years, Amy provided her service in many educational fields. She served as a school site, administrator, a classroom teacher, and state representative for a four-county region under CDE (California Department of Education).
The holder of an ED.D. in K-12 Educational Leadership, Dr. Amy Cranston, conducted her doctoral research on Social and Emotional Learning (SEL). So, she currently offers her passion and learning in SEL at the local, state, and national levels. Her Doctoral study mainly focuses on SEL for At-Risk students.
Bryan Cranston's Sister Is Also An Author
Dr. Amy Cranston did not just lend her passion and expertise in SEL in various local, state, and national level organizations and programs. Cranston has also written a couple of articles based on her SEL practice and past research. Amy Cranston is also an author of the book 'Creating Social and Emotional Learning Environments', released by Shell Education Publishing.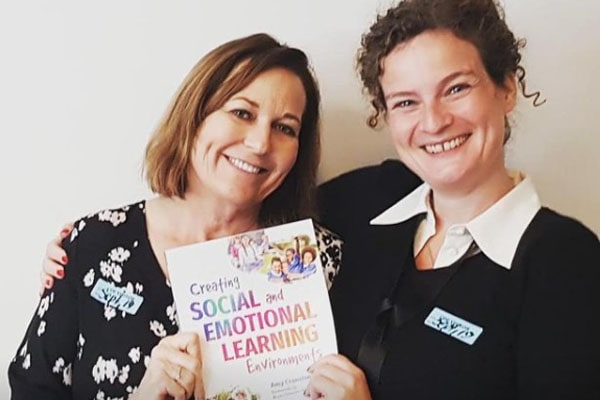 An administrator and writer, Dr. Amy Cranston's book focus on educating people on what exactly SEL is and how it should be taught. It defines SEL and explains the real work of how to include SEL in K-12 schools. Cranston's book provides direction for how each individual can impact another individual for the better and determine one's personal growth in the process.
ALSO READ: Real-life Sister Of Ben Schwartz
Younger Sister Of Bryan Cranston
A formal and passionate SEL expert, Amy Cranston is the youngest child of Joe Cranston and Peggy Sell. Besides Bryan Cranston, she has one older brother named Kyle Edward Cranston, who is also in the acting field. Though Amy's eldest brother, Kyle, is not active in the Film Industry like Bryan, he starred in numerous films in the past, including The Cobblestone Corridor and Midnight Brew.
View this post on Instagram

Amy shares a close bonding with both of her brothers. Being the youngest child of the family, she is undoubtedly getting a lot of love and care from her elder brothers. She often shares pictures with her brothers on her social media pages. Seeing the photos shared by Amy, it seems like both of her big brothers, Bryan and Kyle, supports and motivates her in her career as an educator.
Amy And Her Brothers Had A Difficult Childhood
Like the saying, "behind every successful person, there are many unsuccessful years," Amy and her brothers also struggled a lot in their past. Amy was a little girl when her dad, Joe Cranston, left her and her brothers on their mother's responsibility. When Joe left, their mother, Peggy, sold stuff at flea markets to make money for their daily needs. The Cranston siblings also did some odd jobs to help their mom.
However, despite Amy's mother's best efforts, they sold their family home for a defaulted loan. Then homeless Amy and her mom, Peggy, stayed with their paternal grandmother while her brothers were sent to live on their maternal grandparents' farm for a year. After some months, Amy and her brothers reunited. The Cranston family took three boarders in a house with one bathroom and sustained their life on food stamps.
During an interview with the New Yorker, Amy Cranston recalled that her brothers tried to fill in as men of their home. Her recollection is of her single mom and two big brothers who were her dads. However, Amy and her brothers, Bryan and Kyle, overcame the challenges that came in their way and used them as a ladder towards success. At the moment, Amy and her siblings are successful in their career and living a happy life. Amy is proud that she got brothers who raised her being a father figure.
Explore more on eCelebrityBabies and get updates on Celebrity Babies, Celebrity Parents, Celebrity Siblings, and More.