The Houston, Texas-born American actress Melora Hardin is serving as a dedicated actress for more than three decades now. She cemented her name in public after playing a recurring role as Jan Levinson on NBC Sitcom 'The Office'. Her latest TV appearance was in the episode 'The Bold Type vs. RuPaul's Drag Race' of Celebrity Family Feud. Melora is also a director of the movie You and one latest episode, 'Snow Day' of The Bold Type.
Melora Hardin was born to the famous American Entertainment personalities Diane Hardin and Jerry Hardin on 29 June 1967. Her parents raised her in San Fransisco, California, with her brother, Shawn Hardin, who is also related to the American acting field. He is a producer of various TV shows and films. Besides, Shawn is also engaged in another profession, as well. Here, learn all of Melora Hardin's brother, Shawn Hardin's professional achievements, along with his married life.
Melora Hardin's Brother Is A Producer
As mentioned earlier, Melora Hardin's brother, Shawn Hardin, born on 10 March 1962, also grew up to be a part of the American acting industry just like his parents and sister. Though he did not try his hand at acting, he chose to handle filmmaking's business components by being a producer.
According to IMDb, Shawn Hardin produced the one-hour documentary starred by Francoise Robertson, Crosswinds, in 1990. Moreover, Melora Hardin's sibling is also a director member of the Directors Guild of America. He served as a filmmaker on more than seventy films and video productions, including work on both independent and studio productions like Tri-star Pictures, NBC, MTV, and 20th Century Fox.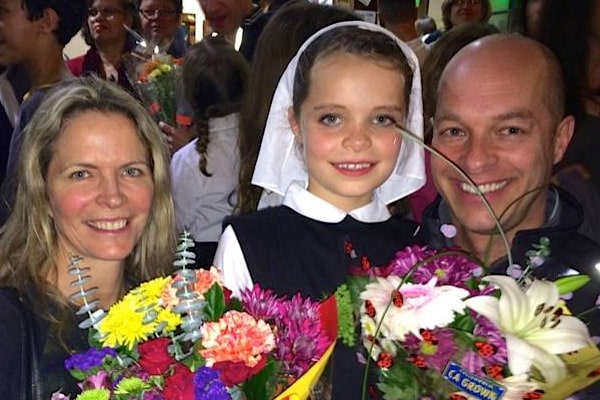 Furthermore, Shawn Hardin worked on advisory boards for National Public Radio, the American Film Institute. Hardin was also a founding member of the Academy of Television Arts & Sciences Interactive Media Peer Group and Producers Guild of America New Media Council.
A Partner At Reason Venture Partners
As mentioned in the Linkedin profile of Shawn Hardin, he is currently serving in the REASON Venture Partners, Seattle, Chicago, and Palo Alto, as its Partner. Before co-founding REASON Ventures Partners, which invests in and accelerates high-growth companies, Shawn was the founder and chief executive officer of Mind Pirate, acquired by HP's Innovation Group in December 2014.
Moreover, Melora Hardin's brother, Shawn Hardin, was the Advisory Board Member, Angel & Principal Investor at Sahale Snaks, acquired by The J.M. Smucker Company in 2014. Also, Shawn served as an entrepreneur in residence for Bessemer Venture Partners and Shasta Ventures for some period.
Besides, Shawn has experience working on AOL as Senior Vice President and Broadband Product & Programming and on Yahoo as Head of Youth, Health, Lifestyle & Games. Likewise, he worked as a vice-president & executive producer at NBC New Media for NBC from 1994 to 1998.
Former CEO Of The Social Browser, Flock
A graduate of Standford University, Shawn Hardin was the chief executive officer of Flock, a social web browser. The flock was the number one most popular desktop application on Facebook in 2010. It was distributed globally in thirty-four languages and won several awards for innovation like Webby, Eddy, MacWorld, and many more.
However, in 2011 another social gaming company, Zynga, acquired Flock Inc. Hardin wrote on the blog that his team would help Zynga to achieve their goal of building the most fun, social games available to date. Some media noted that Google Inc. and Twitter Inc. also had an interest in buying Flock. However, Zynga succeeded in acquiring it.
Married And A Father To Three
Melora Hardin's brother, Shawn Hardin, is a married man. According to various online sources, he is in a marital relationship with an actress and producer, Kara Meyers, notorious for the movies The Debtors, The Venice Project, and The Perfect Party.
The uncle of Rory Melora Jackson and Piper Quincey Jackson, Shawn Hardin, has one daughter with his long-time wife, Kara Meyers. The couple gave birth to their little girl, Cleo Elizabeth Hardin, on 17 November 2005.
ALSO READ: B.J. Novak's Brother, Jesse Novak
Furthermore, Shawn has got 2 more children, three in total, but hasn't revealed much about them yet. Nevertheless, Shawn Hardin is living a blissful and happy life with his wife and kids in Menlo Park, California.
Explore more on eCelebrityBabies and get updates on Celebrity Babies, Celebrity Parents, Celebrity Siblings, and More.